Knicks coach Mike Woodson 'not happy' with J.R. Smith
Knicks coach says the 'young man' needs to change his behavior. At age 28, is that really reasonable to expect?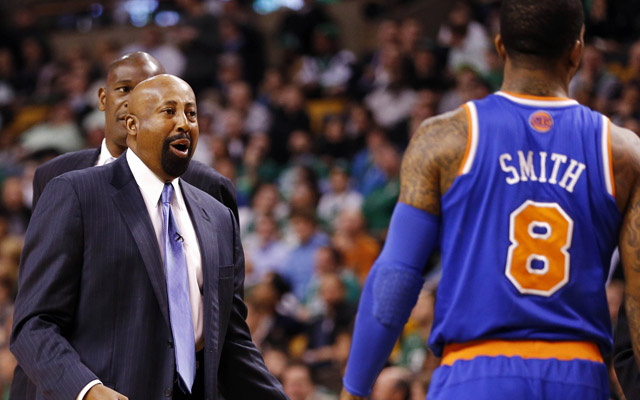 Knicks coach Mike Woodson said Friday he was "not happy" with J.R. Smith over his latest stunt in which he threatened Pistons guard Brandon Jennings on Twitter and was fined by the league over it. Smith said he didn't intend to threatenthe young point guard over comments made regading the fact his brother, Chris Smith, was given a guaranteed contract by the Knicks, a move many felt was tied with keeping Smith and his agency, CAA, happy. From Newsday:
Mike Woodson was "not happy'' with J.R. Smith for his tweets directed at Pistons guard Brandon Jennings, and he said that if Smith keeps putting himself in these positions, "eventually no team is going to want to deal with you.''

"I was not happy about that and that's why we had a behind-the-door meeting with he and Chris [on Thursday] because it's ridiculous,'' Woodson said during his weekly radio interview on ESPN New York Friday. "There's got to come a time where you stop putting yourself in that position. It's going to come a time when you keep doing it, eventually no team is going to want to deal with you. You got to learn from it. Those are the things where I'm trying to get this young man to.''
via Mike Woodson, NBA not happy with J.R. Smith.
OK, stop right there. Smith just turned 28. We, and by we, I mean Mike Woodson, has to stop pretending this is some 21-year-old rookie out there who doesn't know any better. Smith has been in the NBA for nine seasons, he knows how this stuff works by now. He knows what he should and shouldn't do. He's had established coaches for most of his career and still has elected to take the path of least brain cells. 
This isn't a maturity issue, in the sense that there's very likely never going to be a moment where he "gets it" in the NBA. Maybe when his playing days are over. Maybe he'll mellow out when he gets to be 30. But this is who Smith is. The bad shots, the overconfidence, the feeling he can do whatever he wants, these are all things the Knicks have embraced and encouraged in Smith, because a bunch of shots fell for them last year when he did it. 
It's fine, maybe he's worth it. But stop pretending like he's just some green knucklehead who's going to turn the corner eventually. The odds are just as good that this is J.R. Smith, forever and always. 
Show Comments
Hide Comments
The Raptors do enough to get past the Bucks in the opening round of the playoffs

San Antonio ousts Memphis in their first-round series in six games

And Grizzlies coach David Fizdale didn't exactly disagree
Toronto survives, but struggles to do so

San Antonio will face the Houston Rockets in the second round

The 40-year-old is coming up big in the playoffs