Knicks' Felton has pinched nerve; World Peace has knee drained
Knicks guard struggling with pinched nerve in his hip, Metta World Peace to miss Tuesday night game vs. Pistons after minor knee surgery.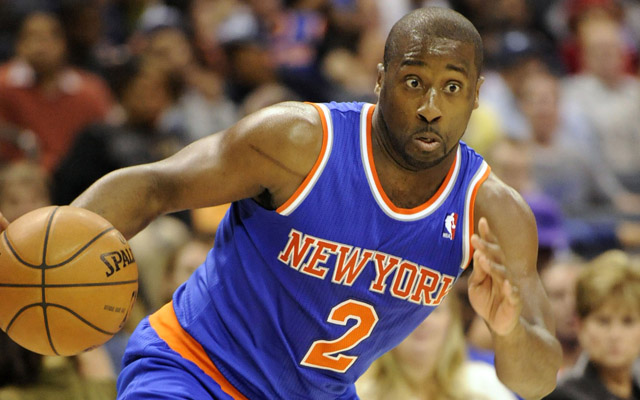 The Knicks need some good news, any good news right now, but instead everything keeps coming up sour. Already without franchise center Tyson Chandler, the Knicks have injury bugs all over the place, and two starters are now struggling. 
Raymond Felton revealed to reporters that in addition to a hamstring injury bothering him, he's dealing with a pinched nerve in his hip. 
Felton, who is averaging 11.1 points a game and shooting 37.6 percent from the field, has also been dealing with what he described as a pinched nerve in his hip, which sends a "sharp pain" shooting down his legs, he said. He has taken medication in an attempt to ease some of the symptoms.

"Nobody's known about that, because I don't like making excuses," he said. "But hopefully, the treatment kicks in, and we'll see how it goes."
via Felton Is Missing Shots, and Those He Guards Are Not - NYTimes.com.
OK, well that just sounds painful. Felton is having an awful season, especially shooting, averaging 37 percent with 100 points on 109 shots. He's a huge part of the Knicks' offense, as one of the few on-ball creators they have, and the primary initiator in sets where the Knicks don't just dump the ball to Carmelo Anthony. 
Meanwhile, starting small forward Metta World Peace had his knee drained this week, according to ESPN New York, and will miss Tuesday's game vs. the Pistons. 
#Knicks F Metta World Peace had fluid drained from his left knee today, @ESPNNewYork has learned.

— Ian Begley (@IanBegley) November 19, 2013
Metta World Peace (knee) will be out Tuesday. His status for Wednesday is uncertain. Procedure is believed to be minor, league sources say.

— Ian Begley (@IanBegley) November 19, 2013
The Knicks could use some good news, any good news, at this point. 
Show Comments
Hide Comments
What does a first-round sweep mean for PG13's future in Indiana?

Celtics reverse course in Chicago; Pacers head home

Our NBA experts predict the first round of the postseason
Can the Clippers close the series without Blake Griffin?

The playoffs are starting to heat up

The Cavs are the first team to move on to the next round