Knicks have better odds of winning NBA title than Nets, say oddsmakers
Bovada.lv has the Knicks a better favorite to win the NBA title. Or at least, less of an underdog.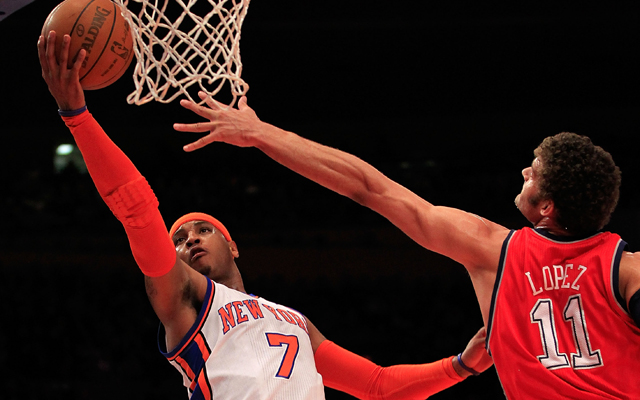 The Knicks have the edge on the Net according to oddsmakers.
(Getty Images)
Bovada.lv's NBA futures odds have been out for a while, so you may have already noticed this, but it caught my eye. 
Odds of winning the NBA Championship:
35/1

40/1
via NBA Basketball Futures - NBA Playoffs Betting at Bovada Sportsbook.
So the oddsmakers think that the Nets, who added Joe Johnson, retained Deron Williams, Gerald Wallace, and Brook Lopez while beefing up their bench, have less of a chance at winning the title than the Knicks who were swept out of the first round last season. 
Interesting. 
It's fascinating because you can make the argument either way on the top three players for each team. Carmelo Anthony can be a great rebounder who can also score 40, there are are times when he's a black hole of isolation ball movement death. Deron Williams can be an elite point guard, arguably the best in the game. He's also suffered through two very good-not-great years for his level. Amar'e Stoudemire has a wealth of health issues and doesn't rebound well enough, Joe Johnson is, well, a lot like Carmelo Anthony on offense, but a better defender. Tyson Chandler is the reigning Defensive Player of the Year, Gerald Wallace can do just about anything you can on a court. 
Neither Mike Woodson nor Avery Johnson inspire confidence, and the both benches have issues. Neither have great odds to win the title, neither are serious championship contenders. But the fact that the oddsmakers favor the Knicks is an interesting development, and should only further the debate in New York about who's better. 
Much like this post. 
Show Comments
Hide Comments
We'll be seeing this Westbrook face from Game 5 a lot

The series returns to Los Angeles for a pivotal Game 5

The series heads back to San Antonio tied at 2-2
No final decision has been made, but Rondo could suit up

The service must have been outstanding

The Rockets look to close out the series at home