Knicks' Iman Shumpert misses practice with soreness in knee
New York Knicks' wing man Iman Shumpert is feeling soreness in his surgically repaired knee after a collision in Game 3 against the Indiana Pacers.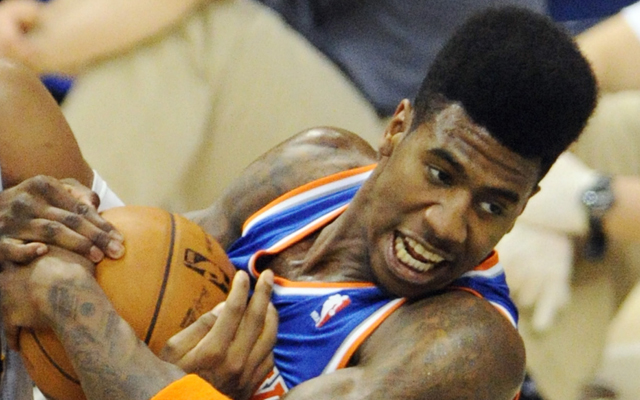 As if the New York Knicks needed any more players in their rotation to be banged up, Iman Shumpert had a collision during the Knicks' Game 3 loss to the Indiana Pacers that is causing some discomfort to his surgically repaired knee. While the soreness is not expected to keep Shumpert out of Game 4 in Indianapolis on Tuesday night, it did keep him out of practice on Monday.
The New York Knicks were missing a third player in practice Monday as Iman Shumpert sat out due to soreness in his left knee, the team said.

The extent of Shumpert's soreness was unclear, but Shumpert and coach Mike Woodson said they thought the forward would play in Game 4 on Tuesday night, when the Knicks' Eastern Conference semifinal series against Indiana resumes. The Pacers lead 2-1.
Shumpert said the soreness is the result of the fall he took last game and not lingering effects from his surgery last year.
The Knicks are already missing J.R. Smith and Kenyon Martin with the same illness that slowed Smith in Game 3. Neither practiced on Monday as the Knicks prepared their strategy and adjustments to try to even up the series at two games apiece. Even though Shumpert's knee soreness doesn't sound serious, it's one more thing for the Knicks to worry about as they try to put together a rotation to go against the Pacers.
Shumpert tore his ACL on the first day of the 2012 playoffs and missed the first 37 games of the Knicks' season during the 2012-13 campaign before returning to action on January 17 against the Detroit Pistons in London. He ended up playing in 45 games this season. He struggled to make shots this season (39.6 percent from the field) like he did last season (40.1 percent), but his 3-point percentage went up from 30.6 percent to an impressive 40.2 percent.
He's been much better in the playoffs so far with averages of 9.8 points and 6.8 rebounds to go with his 44.6 percent from the field and 44.4 percent from 3-point range. He's raised his play during the playoffs, and if by some chance he does end up missing Game 4 due to the knee soreness, it could be another big blow to the Knicks.
Show Comments
Hide Comments
Boston used the No. 3 pick on the Duke forward, hoping he can develop into a dominant scor...

This could get awkward for OKC fans, who lost their superstar to Golden State

Golden State didn't have a pick in this year's draft, but they found a player they wanted
Butler was overseas with other NBA players when he heard the Bulls had traded him

The crowd at draft let themselves be heard, but nothing could get under Ball's skin Thursday...

Sacramento finally has its point guard after taking the Kentucky product with the No. 5 pick...