Knicks in more injury trouble as Amar'e Stoudemire out 'a while'
New York Knicks forward is adding to the injury troubles with some knee swelling that will keep him out "a while." Knicks are all banged up.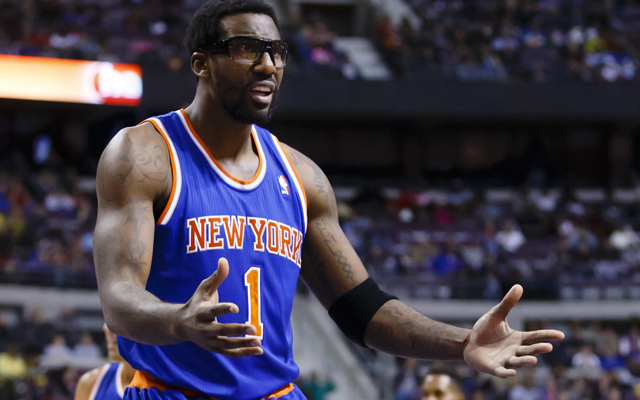 It's no secret that the New York Knicks are a mess. They're just 7-17 a little over a quarter of the way into the season and they've been straining to grind out victories while they play with incomplete rotations due to injuries. The Knicks are already without Pablo Prigioni (fractured toe), Raymond Felton (strained hamstring), and Kenyon Martin (strained abdominal). Tyson Chandler could return from his broken fibula in the next game or two but nothing is certain.
You can add Amar'e Stoudemire back to the injury concerns. After a tough stretch of games and play, Stoudemire's knees have swelled up and coach Mike Woodson said the power forward will be out "a while." They don't know how long but he will not play Wednesday when the Knicks travel to Milwaukee to take on the Bucks.
Woodson on Amar'e: "Amar'e's going to be out a while. I don't know, but he won't play tomorrow."

— Al Iannazzone (@Al_Iannazzone) December 17, 2013
The #Knicks won't have Prigioni, Felton, Kenyon or Stoudemire tomorrow against Milwaukee. They may have Tyson Chandler back. Wow.

— Ian Begley (@IanBegley) December 17, 2013
The Knicks just completed a stretch of five games in seven nights and Stoudemire played in all five of them. He played 27 minutes on December 10 against the Cavs, 29 minutes the next night against the Bulls, 30 minutes on December 13 against the Celtics, 19 minutes the next night against the Hawks, and finished out the stretch with 19 minutes against the Wizards Monday night. Considering the Knicks were supposed to monitor his playing time and make sure not to over extend him this season, I wouldn't say that plan is going all that well.
The injuries have played a part in Stoudemire having to play more than they'd probably like, but Woodson is also failing to play healthy big men on the roster. Cole Aldrich played a total of three minutes and 54 seconds in three of those five games and sat out the other two completely. He never registered more than 1:59 in any of those games. Perhaps it's not fair to assume Stoudemire would be feeling better and his knees wouldn't be so swollen had the Knicks used another healthy big man when available. However, second guessing the Knicks, their rotations, and their medical practices seem to be the norm right now.
Show Comments
Hide Comments
Game 1 of the 2017 NBA Finals tips on June 1

LeBron reflects on emulating Michael Jordan growing up, but one thing he couldn't quite co...

Check back here for all of the conference finals results from the NBA playoffs
The Cavs clinched the series by winning Game 5 by 33 points in Boston

'I wear the number because of Mike'

Our experts predict every series in the 2017 NBA playoffs