Knicks, Lakers, Bulls top $1 billion in Forbes NBA evaluations
Forbes has come out with its NBA franchise evaluations and the New York Knicks, Los Angeles Lakers, and Chicago Bulls have all cracked the $1 billion value.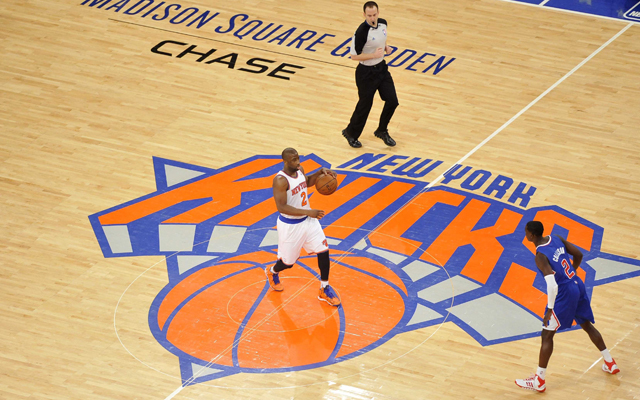 Are you looking to get into the NBA franchise owning business? 
Forbes has released its annual evaluations of the 30 NBA teams and the New York Knicks , Los Angeles Lakers , and Chicago Bulls have all cracked the $1 billion marker in franchise value. The Knicks come out ahead as the most valuable franchise in the NBA. Forbes lists the franchises' values, revenue, and operating profit with the revenue and operating profit being determined from the 2012-13 season.
Here are the 30 franchise values, according to Forbes:
1. New York Knicks: $1.4 billion
16.

Sacramento Kings

: $550 million
2. Los Angeles Lakers: $1.35 billion
17.

Utah Jazz

: $525 million
3. Chicago Bulls: $1 billion
18.

Toronto Raptors

: $520 million
4.

Boston Celtics

: $875 million
19.

Cleveland Cavaliers

: $515 million
5.

Brooklyn Nets

: $780 million
20.

Denver Nuggets

: $495 million
6.

Houston Rockets

: $775 million
21.

Washington Wizards

: $485 million
7.

Miami Heat

: $770 million
22.

Indiana Pacers

: $475 million
8.

Dallas Mavericks

: $765 million
23.

Philadelphia 76ers

: $469 million
9.

Golden State Warriors

: $750 million
24.

Memphis Grizzlies

: $453 million
10.

San Antonio Spurs

: $660 million
25.

Detroit Pistons

: $450 million
11.

Oklahoma City Thunder

: $590 million
26.

Minnesota Timberwolves

: $430 million
12.

Portland Trail Blazers

: $587 million
27.

Atlanta Hawks

: $425 million
13.

Los Angeles Clippers

: $575 million
28.

New Orleans Pelicans

: $420 million
14.

Phoenix Suns

: $565 million
29.

Charlotte Hornets

: $410 million
15.

Orlando Magic

: $560 million
30.

Milwaukee Bucks

: $405 million
The Spurs and Thunder coming in at number 10 and number 11, respectively, shows you the power of having smart business people in small markets that have the opportunity to capitalize on basketball success on the court. The Heat have turned a mid-market in the NBA into one of the most valuable situations in the NBA. The Portland Trail Blazers have also done a fantastic job of putting a small market team with a rabid fan base into a very valuable scenario for the franchise's bottom line.
The Bucks coming in last in the league in value is interesting with rumors and expectations that an ownership group from out of town swooping in to purchase them and possibly move them to a bigger market. We saw the Sacramento Kings go for well over half a billion dollars when they were eventually sold to Vivek Ranadivé last year. Would going over the top with an offer to Senator Herb Kohl eventually open the doors for the team to leave town? Or will he stay strong and make sure the next ownership group continues having the business in Milwaukee?
Show Comments
Hide Comments
Thompson is one of the best shooters in the league, but it appears dunking isn't his speci...

Cuban was willing to part ways with employees who leaked ahead of the official announcemen...

Draymond wasn't mad about the move, though. He was mad about the way he heard about it
All-Star forward was sent from the Bulls to the Timberwolves on draft night

It's not so much who Boston took, but who it didn't take

Former Bulls star was venting after being traded to the Timberwolves