Knicks-Pacers Game 2 Preview: Against the wall
Previewing Game 2 between the New York Knicks and Indiana Pacers in the NBA playoffs Tuesday night.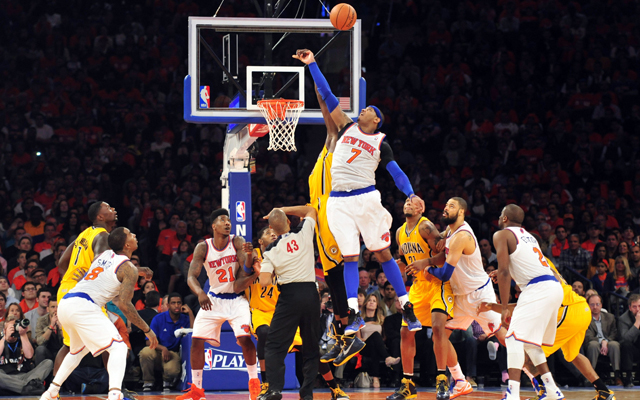 Previewing Game 2 of the NBA playoff series between the New York Knicks and Indiana Pacers Tuesday night. 
1. Where We Are: 1-0 Pacers and a must-win game for the Knicks.
The Pacers dominated in Game 1. Style, pace, approach, in the numbers, on the scoreboard, everywhere, and shocked the Knicks by dropping them on their homecourt. Indiana gained homecourt advantage and showed that it has the advantage inside and can score on the Knicks' defense as well.
This is a huge game for the Knicks. You're not coming back from needing to win four of five vs. Indiana. You're not coming back from dropping both of the first two games on your home floor. You're not coming back from mentally being dominated to that degree to start a series when you were the favorite. They have to win Tuesday night, and honestly, the margin needs to be big.
2. The Big Number: The Pacers grabbed 85 percent of their defensive rebounds, a huge number for a playoff game. Basketball metrics study teaches that the key for a team to winning is not so much creating offensive rebounds (though that helps), it's preventing the other team from getting them. In a grind-it-out game as to be expected between these two teams, not giving the Knicks extra possessions is pivotal. It was one and done for New York in Game 1, and if you take away 3s off of offensive rebounds and putbacks, you have a big advantage for Indiana.
3. Key Adjustment: As always, it comes down to whether New York will do the things that create good offense for them (ball movement, off-ball motion, pick-and-roll) or whether they'll do what they think is best for them and run isolation play after isolation play.
When they run isolation, the Pacers simply tune multiple help defenders to attack and dare the Knicks to hit contested jumpshots or get by multiple interior guys with long arms. It's not a good recipe. The Knicks are going to have to hit contested shots no matter what, but off the dribble with a guy right on you is not preferable to a catch and shoot rhythm J with a defender closing.
If New York doesn't get the Pacers moving and out of position to some degree, they play right into Indiana's hands.
The Big Story: How do Carmelo Anthony and J.R. Smith respond? All year the two Knicks gunners led New York to success and accolades, all the way to the second seed. But this isn't the regular season, and Indiana has them well-scouted. Did they just miss shots in Game 1? (And in Games 4-6 last series, but let's not talk about that.) Or is their play style simply unsustainable. This game and this series will tell a lot about the answer to that question. The Knicks need phenomenal games from both players in Game 2, just to survive and avoid an 0-2 hole. They've stepped up all year. Can they do the same when things get difficult? It's not April any longer. 
5. The Facts: 7 p.m. ET start time. No known injuries at this time outside of Amar'e Stoudemire, who is expected to play in Game 3.
The 24-year-old swingman will become an unrestricted free agent

The youngster hit Oladipo with a nutmeg during a one-on-one game at Oladipo's camp

The Cavs will be looking to upgrade their squad after their Finals loss to the stacked War...
Denver is reportedly also in talks on a three-team trade that would send them Kevin Love

Barclays Center hosted the BIG3's inaugural slate of games on Sunday, with The Answer as a...

Pierce was drafted 10th overall by the Celtics in the 1998 NBA Draft