Knicks reach buyout with and waive Metta World Peace, Beno Udrih
Knicks waive two veterans who joined the team as free agents and have been unhappy ever since.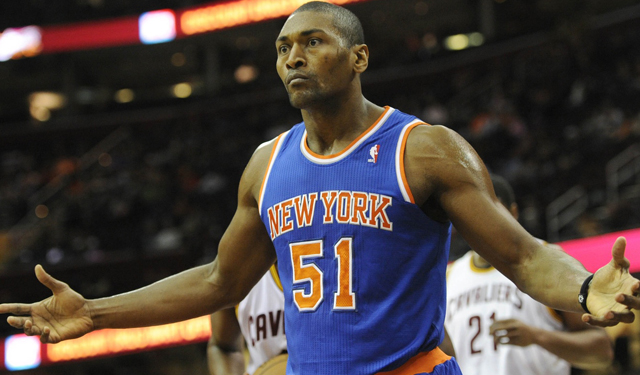 The Knicks officially bought out the contracts of guard Beno Udrih and forward Metta World Peace Monday, then officially waived them. From the Knicks' release: 
 "We are disappointed that it did not work out for Beno and Metta here in New York," Mills said. "We thank them for their contributions this season and wish them well." 
Metta World Peace soon released a statement of his own: 
"It was a childhood dream of mine to play basketball professionally in New York City, and it has truly been a blessing for that dream to have come true.  However, under current circumstances, my agent and I have agreed that being bought out would be the best option for me professionally.  I would like everyone to know that whether I was on the court or off, I could not have been happier playing for and cheering on this amazing city, my city. Lastly, I would like to thank all of the incredible fans of New York, as well as my teammates, my coach and the Knicks' owner for the wonderful opportunity to play in my hometown."
The Knicks reportedly unsuccessfully tried to trade Udrih at the trade deadline, after a season in which Udrih was repeatedly singled out by coach Mike Woodson amid the team's total failures. 
MWP tweeted Saturday he was headed for a buyout. 
Udrih average 5.6 points and 3.5 assists in 19 minutes per game for 31 games this season with the Knicks, while MWP averaged 4.8 points and 2.0 rebounds in 13 minutes per game for 29 games this season. World Peace reportedly already has a shortlist of places he'd like to go as a free agent once he clears waivers. 
Source: After being waived by the Knicks, Metta World Peace hoping to land in Miami, San Antonio or OKC

— Chris Broussard (@Chris_Broussard) February 24, 2014
Show Comments
Hide Comments
Our Latest Stories
The center says he's not exactly asking to be traded, but something must be done

The center signed a max contract in July

The storylines, they are a plenty.
This seems a little extreme, no?

The Pistons coach is pushing his players to register to vote

The Thunder center used to say 'No English' whenever the future Hall of Famer came around