Knicks' Tyson Chandler has a bulging disc, out for about a week
New York Knicks' center Tyson Chandler had an MRI that revealed a bulging disc in his spine and he's expected to miss about a week.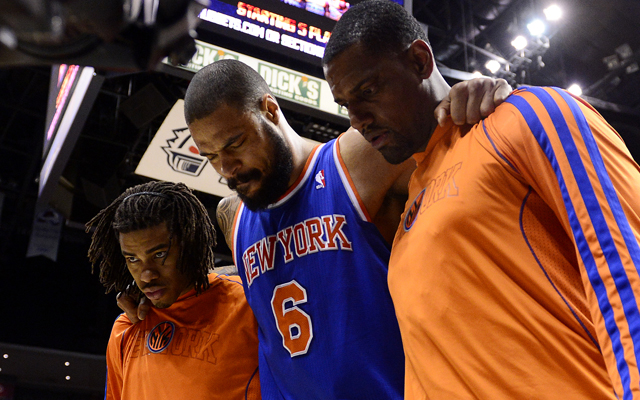 We just received news of Kurt Thomas' injury and that he'll be out two-to-four weeks. Unfortunately for the New York Knicks, it doesn't look like their big men will be getting any healthier just yet. The depleted interior for the Knicks was hoping to add All-Star center Tyson Chandler back to the rotation, but it looks like that won't be happening for at least a week.
The team announced that Chandler underwent MRI testing and it revealed a bulging disk in his neck.
An MRI of Tyson's Chandler cervical spine revealed a small bulging disc. He is expected to miss approximately a week.

— NY_KnicksPR (@NY_KnicksPR) March 19, 2013
This doesn't have to be a serious injury, but anything involving athletes and their necks definitely fires off alarms. With as physical as the NBA is and the fact that we see guys fall hard to the court all the time, you'd have to be worried that a bulging disc in Chandler's neck should be a bigger concern than missing a approximately a week of basketball.
When the Minnesota Timberwolves were down several rotation players for over two weeks each, they were allowed a hardship exception by the league to sign a 16th player to the roster for a 10-day contract. The Knicks don't quite have that problem yet (with Rasheed Wallace, Amar'e Stoudemire, and Kurt Thomas all expected to miss two weeks or more), but any kind of setback with Chandler could push them into that territory.
As for right now, they just have to hope everybody gets healthy soon and they can stay afloat in the playoff standings, as they battle for the third seed.
(H/T - Posting and Toasting)
Show Comments
Hide Comments
Our Latest Stories
Maybe just let everybody enjoy this

This is the Mamba mentality, I guess

Hornets swingman Jeremy Lamb hit the star in the eye on Friday
New York's injured center tested positive for using a banned over-the-counter supplement

Booker had a prolific, but unusual, scoring night

Boston's All-Star guard: 'It's weird what they were doing'