Kobe Bryant, LeBron James posit the idea of more breaks in schedule
Future Hall-of-Famers discuss the importance of rest and the need for changes in league, All-Star schedule.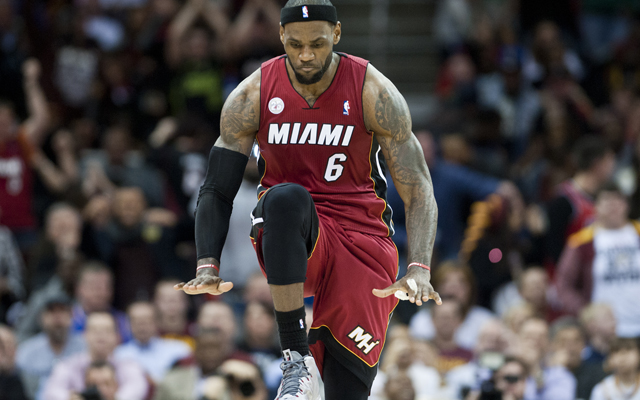 The idea of the NBA schedule being too long and grueling isn't exactly a new one. It's been a topic of debate for years. Back-to-backs, four-games-in-five-nights, six-game road trips, these are all things that wear on players' bodies. They constantly talk about wanting more time for rest, it's why so many teams, most notably the Spurs, give their star players nights off completely.
All-Star Weekend is supposed to provide that rest, but in reality, those who are selected are subjected to a parade of media obligations, events, the games, and family and friend obligations that exhaust them. I spoke to Chris Paul on Thursday afternoon along with several reporters at a community service event and he was already worn out from being ushered from place to place.
So during the weekend, two major stars indicated that there may need to be changes to allow for more breaks in the schedule.
Adam Silvers said Miami Heat star LeBron James brought up the idea of a longer All-Star break. From ESPN: 
Silver told the network he met briefly with multiple players during All-Star Weekend in New Orleans and shared that James, in particular, is lobbying for an extended break to allow the game's stars to enjoy some semblance of respite from the grind of the regular season.

"LeBron and I have had a relationship for a long time," Silver said. "We're so far in season [that] the relationship has mainly been one of texting and emailing. I spoke to him for a little bit [Sunday], and he had a few things to say in the locker room when I was in talking to the players. 

"One of the issues LeBron raised is a break during All-Star [Weekend]. A guy like LeBron, All-Star Weekend is not a break for him in any way. He's going around the clock with a combination of things the league is asking him to do, personal commitments, and I think it makes sense if we can work in the schedule a few days so the All-Stars can get a break as well."
via NBA commissioner Adam Silver says LeBron James, NBA stars lobby for longer All-Star break - ESPN.
And in his press conference Sunday, Lakers legend Kobe Bryant indicated that there needs to be some adjustment as well. 
"Yeah, I mean, it has been a slew of injuries here in the last couple years," Bryant said. "I don't know.  I think we'll have to kind of look and as a whole, as a league, and maybe re-evaluate things that we can do.  Whether it's rest periods in between or maybe it's just different forms of recovery, whatever the case may be.  You think there's something to that.  That needs to be figured out." 
There's speculation that the "different forms of recovery" would be PEDs like human growth hormone. That's a slippier slope to talk about another time. The break concept is interesting, though. 
You can extend the All-Star break, like Doc Rivers wants to, from say, Wednesday through the following Wednesday, giving the players a full week. It creates a long dead spot in the sports season, a prime time span for the league to pick up fans which is problematic, however. 
Another idea might be to build in different rest periods throughout the season. What if you built in five-day rests coordinated at the quarter-mark staggered for different teams like the NFL does with bye weeks at 20 games and 60 games in? That would give players time to get away for a bit and rest up from injuries. Throw in a little extra rest built around the games before and after and you can get significant respite. 
Of course, there's the problem of extending the season. You have to work this in so it doesn't go longer. The NBA has toyed with extending the draft back to the first week of July (thereby destroying yet another holiday, July 4th, for everyone associated with the league). But you go any further and you're talking about October through mid-July. "Basketball never stops" and all that, but there's got to be a limit on how long this thing goes. 
This would have to be negotiated between the league and the NBPA. It's uncommon for the league to ratify changes to an existing CBA outside the context of a new deal, but it's theoretically possible. This could wind up on the docket of changes for the next negotiation. Of course, there are a huge number of issues both sides wanted to tackle but never got around to because they were too busy trying to kill each other over every dollar available. 
We'll see how much of a priority this becomes for the league and the players. 
Show Comments
Hide Comments
If this is their real list, some of the names are pretty hilarious

The bucket pushed the Spurs' lead to seven, and the Grizzlies never got that close again

The series shifts back to Washington for a pivotal Game 5
Trade Kanter? Re-sign Roberson? What about Westbrook?

The Celtics and Bulls meet in Boston for a pivotal Game 5

Here is how to watch the Celtics-Bulls series