Kobe Bryant plans to retire as a Laker, but the paycut thing is tricky
Kobe Bryant says he plans to retire as a Laker, but isn't rushing into taking a paycut next summer.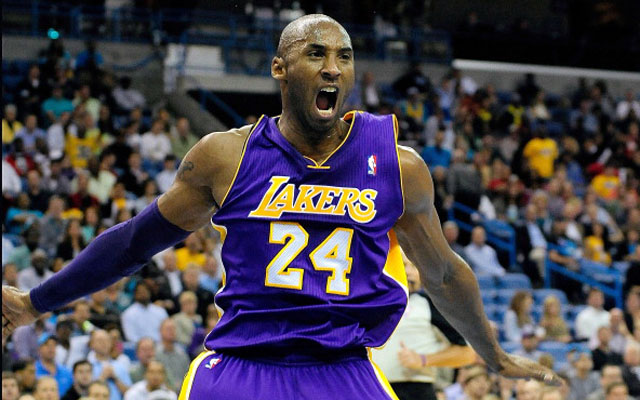 So with Dwight Howard having tried to take over and the bugging out, the Lakers are once again Kobe Bryant's team, and only Kobe Bryant's. He's king of the castle still, even if he hobbles on a torn Achilles as he maintains his spot on the throne. 
But Bryant says he wants to win two more titles, and the Lakers' future is definitively planned around 2014 and the cap space that will be made available to them. So how does Bryant, who will be paid $30 million next season and is set to be a free agent after that, factor into the plans? Well, first of all, Bryant expects little in the way of drama as to his extension, and that he'll retire a Laker, as he told ESPN LA this week. 
Oh, so, he's willing to take a paycut to make room for some marquee names? Well, not so fast. It's complicated. First, here's this from an interview he did with LakersNation.com: 
"I'm not taking any at all -- that's the negotiation that you have to have." Kobe Bryant told Lakers Nation in an exclusive interview at his Kobe Basketball Academy on Wednesday. "For me to sit here and say, 'Oh yeah, I'm just going to take a huge pay cut. Nah, I'm going to try to get as much as I possibly can."
via Lakers News: Kobe Bryant Not Planning To Take A Pay Cut In 2014 | Lakers Nation.
So he's not taking a paycut and wants to re-sign for the max? Well, sure he wants to, but that's not really what he means. From ESPN LA: 
"As a businessman the goal is always to not take a pay cut," Bryant said. "But ..."

The Lakers had intended to approach Bryant about an extension this summer, league sources said, but those plans were tabled until Bryant got further into his rehabilitation from Achilles tendon surgery in April.

Bryant said he didn't intend to approach the Lakers about an extension until "the dust settled" on their other business this summer.

Earlier Tuesday, Bryant was asked by Lakers Nation, a fan website, if he would take a huge pay cut, possibly to a one-year minimum salary at $1.45 million, to stay with the Lakers. Bryant later told ESPN that since negotiations have yet to begin, it was pointless to bring up a number that he'd be willing to play for.
via Kobe Bryant: No snags expected -- ESPN.
So here's some shocking news: Kobe's competitive. If he had it his way, LeBron James and Carmelo Anthony and Chris Bosh and Dwyane Wade would all come to the Lakers and play for the veteran minimum next summer while he makes the max. That's what he wants. But if he has to sacrifice, he will, and from there it becomes about a matter of degrees. 
What he's trying to say about "not taking any at all" is that he's not going to offer it up. He's not just going to volunter "Hey, I'll take $5 million per year if that'll help." Bryant' a competitor in every environment. They'll have to drag every penny out of him by convincing him it will help him win more titles. 
Now, Bryant's not going to be cheap. Make no mistake, how much you earn in the NBA is directly tied to the respect you have in league circles, it's a public mark of pride. But Bryant won't be demanding the max-or-else. He'll work within whatever the plan is and adjust his demands accordingly. But the Lakers love Bryant and have shown him more leeway and support than any player before him, including Magic Johnson. 
He's not going anywhere. 
... Unless they change their minds, which they've been known to do. Listen, it's the Lakers, man. We have to cover all of our options. 
Show Comments
Hide Comments
Our Latest Stories
Heat forward continues comeback efforts but without long-time representative Leon Rose

Longtime GM says team has to win more than 17 games but there are no real standards for im...

Former Bull won't respond to comments he is no longer a 'frontline' player.
The staff at the Q will get some championship bling

The Trail Blazers look to improve on last year's success

Teams are working to maintain honor and respect for the anthem and players' rights of expr...