Kobe Bryant says he could finish his career in Europe
Kobe Bryant says in an interview he'd be open to finishing his career in Europe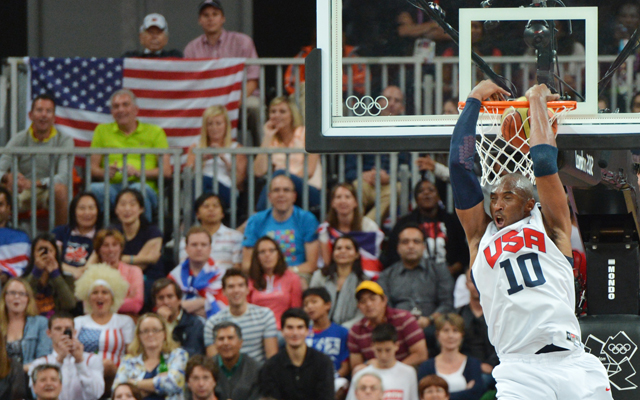 Kobe Bryant could hang on and play in Europe to finish his career.
(Getty Images)
Kobe Bryant's last moments of professional basketball may not come on American soil.
In an interview with Yahoo Sports, Bryant, who grew up in Italy where his father played before moving to Philadelphia to attend high school, says that he's open to the concept of finishing his illustrious career by playing in Europe. From Yahoo Sports: 
"You'd have to look at the market and what's going on in terms of the level of basketball being played," Bryant said. "I understand there's a high level of competitive basketball in Turkey now. They might have the best league in Europe. Spain has obviously been one of the top leagues for a long time.

"And Italy is a place that's dear in my heart, I grew up there, but the level is not where it used to be. When I was growing up over there, that was the best league in Europe."
via Kobe Bryant's final playing days could stretch into a European adventure - Yahoo! Sports.
Bryant's not alone in talking about Europe as a pre-retirement option. Paul Pierce has said in the past that when he leaves the NBA he may play in Europe for the experience. Bryant makes even more sense with his comfort and familiarity within the culture. 
It's an interesting idea, a way for players who are past their ability to produce at the high level they're accustomed to in the NBA due to age, but are still very much great basketball players, to transition to retirement with a whisper, instead of a loud, unfortunate crash. All the players who have hung on too long, who have been driven by their obsessive need to compete, they always tried to remain in the NBA at their same level of prominence, even when their bodies had betrayed them in that regard. This would give Bryant a way to finish out that competitive fire without going cold turkey or being reduced to a fifteen-minute a night role player, something that wouldn't fit with his NBA identity.
Still, there are enouh hurdles to overcome to make it unlikely, as Bryant says in the piece. The biggest factor is that players will almost always try and hang on to the NBA for one more title, and with Bryant constantly chasing Jordan's six, that becomes even more difficult to let go. It would take a remarkable sense of maturity to walk away from North American basketball's premier league before his body is completely done. 
And getting Bryant to let go of his competitive fire at the highest level is something that has appeared, on the surface, impossible. For now, you have to assume his last dribbles will be in Lakers gold. 
Griffin and the Clippers are at a crossroads

"He left because he wanted to be with James Harden," the Los Angeles coach said

The Warriors have shown that simply putting talent together isn't enough
Hayward will be in Miami this weekend, while Utah and Boston also have meetings scheduled

Sacramento signs Serbian to 3-year, $36 million contract while passing on Ben McLemore

Free agency is around the corner, which means there could be a ton of significant moves coming...