Kobe Bryant says his Achilles' tendon is feeling 'really, really good'
Los Angeles Lakers' star Kobe Bryant says his Achilles' tendon is feeling "really, really good." Hopefully he's 100 percent when he returns.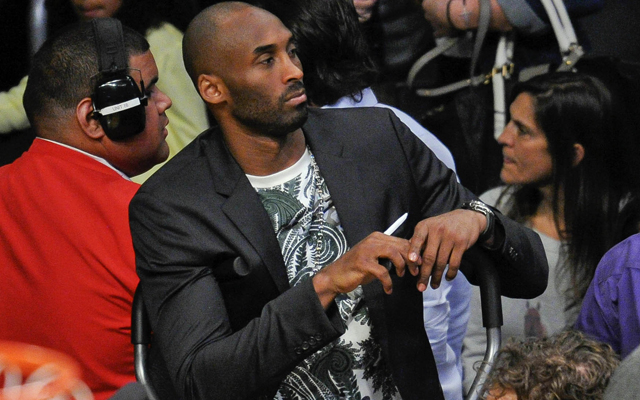 For the next couple of months, we're all going to be on Kobe Watch. Los Angeles Lakers' star Kobe Bryant tore his Achilles' tendon right before the end of the 2012-13 regular season and since then, the big question has been "when will Kobe come back during the 2013-14 season?" The NBA is banking on Bryant being there for opening night, something he's stated is his goal for when to return to action.
The Lakers and Clippers battle on the first night of the new season and if Bryant isn't going to be there, we might not see the spectacular show we're hoping to have to start the 2013-14 campaign. But as of right now, Bryant seems to be pretty optimistic about how everything is feeling. While talking on stage on the Philipines lately, Kobe said his Achilles' tendon feels "really, really good." Via ESPN Los Angeles:
Kobe Bryant said Monday in the Philippines that his Achilles tendon is healing well.

"My tendon feels really, really good. I was really lucky," said Bryant, who was in Manila to promote a product. A video of Bryant's question and answer session was posted on YouTube.

"The trainers go with me everywhere. Family vacations, business trips -- they're there all the time," he said.
He recently said that he and the trainers have shattered his expected recovery time, which is both impressive and worrisome on some level. It's impressive because this injury has often been kind of a death sentence in terms of a player's effectiveness. Not a lot of guys have bounced back from such an injury and been the same player we saw before. If Bryant is able to shake the history of this injury and work his way back to being what we saw from him last season or even a significant percentage of what he was, that would be great for the game of basketball.
It's also worrisome because it's only natural to worry that Kobe is ignoring signs of fatigue or pain or whatever could hold him back from recovering as quickly as he wants. He has a history of just finding a way to put mind over matter when it comes to injuries and persevering through whatever problems his body is having. The Achilles' tendon is more serious than anything he's had before and you just don't want to see him rush back to prove a point that ends up being detrimental to his well-being. 
As of right now, he says it feels really good and that's awesome to hear. I just hope it continues feeling that way and we're able to see him perform safely on the court without worry of him damaging the tendon further.
Show Comments
Hide Comments
Vince Carter, Norman Powell and Nene have also shined on the big stage

A fantastic series will pit two of the best players in the league against one another, aga...

What does this mean for the future of Paul George?
Father's dream of his own billion-dollar brand prevents his son from landing a deal with the...

Will the Celtics, Jazz and Wizards all advance Friday night?

The Spurs and Raptors are the latest to move on from the opening round