Kobe Bryant sits out; Kevin Durant wins NBA scoring title
Los Angeles Lakers All-Star guard Kobe Bryant will reportedly not play during the final game of the regular season, meaning Oklahoma City Thunder All-Star forward will be the NBA's scoring champion.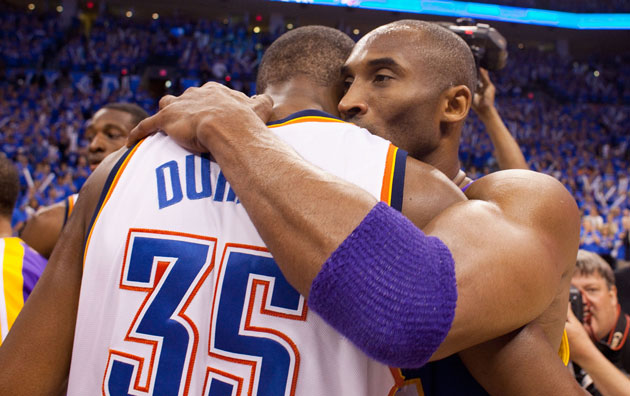 Kobe Bryant will reportedly sit out on Thursday night, leaving the NBA scoring title to Kevin Durant.
(Getty Images)
The race for the 2011-2012 NBA scoring champion is done before its final act. 
Los Angeles Lakers coach Mike Brown said Thursday that All-Star guard Kobe Bryant will not play in the team's season finale against the Sacramento Kings,
according to SI.com
 and
Lakers.com
. As such, Oklahoma City Thunder All-Star forward Kevin Durant will win his third consecutive
NBA
scoring title. 
The two players had been neck and neck down the stretch for the scoring crown. 
Durant's Thunder played their season finale on Wednesday. He wrapped the season averaging 28.0 points per game. Bryant finishes with 27.9 points per game. Had Bryant scored 38 or more points per game against the Kings, he would have passed Durant to claim the third scoring title of his 16-year career.
Durant, 23, played in all 66 games for the Thunder this season, posting a career-high shooting percentage (49.6 percent). He led the league with 27.7 points per game in 201-2011 and 30.1 points per game in 2009-2010. He becomes the youngest player in NBA history to win three consecutive scoring titles.  
Bryant, 33, played 58 games for the Lakers this season, shooting 43.0 percent from the field. He led the NBA in scoring during the 2005-2006 season (35.4 points per game) and the 2006-2007 season (31.6 points per game). This season, Bryant moved into the No. 5 position on the NBA's All-Time scoring list.
The Lakers will rest Bryant as they are assured of the No. 3 seed in the Western Conference and have already locked up the Pacific Division title.
Show Comments
Hide Comments
Thunder fans used the term 'cupcake' in reference to Durant after he left OKC in free agen...

There appeared to be some wishful thinking on the part of Charlotte general manager Rich C...

Thompson is one of the best shooters in the league, but it appears dunking isn't his speci...
Cuban was willing to part ways with employees who leaked ahead of the official announcemen...

Draymond wasn't mad about the move, though. He was mad about the way he heard about it

All-Star forward was sent from the Bulls to the Timberwolves on draft night