Kobe Bryant to see specialist regarding bone spur
Kobe Bryant's injury woes continue. A bone spur in his left foot is the most recent.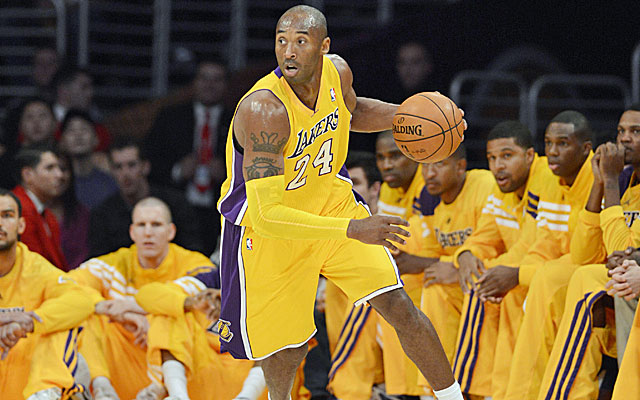 The Lakers informed reporters Thursday night after L.A.'s loss to the Bucks in Milwaukee that G Kobe Bryant has a bone spur in his left foot. He'll see a specialist Friday regarding the injury. 
It's yet another in what has now become a fairly ridiculous streak of injuries for the Lakers. After losing Steve Nash to a leg fracture early in the season, Dwight Howard suffered a torn labrum, Pau Gasol missed significant time with a torn plantar fascia in his foot, Jordan Hill was lost to a hip injury, and, earlier this week, Metta World Peace was forced to have knee surgery after suffering a torn meniscus.
Oh, yeah, and Steve Blake missed time with an abdominal tear and Howard had back surgery last year. 
Bryant also missed time earlier this month after suffering a severe ankle sprain. Bryant has played through pain and injury in the past, including dislocated fingers and the ankle sprain. 
Bryant was visibily hampered Thursday night, with as many turnovers as made field goals in a loss to Milwaukee. 
We'll keep you updated on the Black Mamba's condition. 
Show Comments
Hide Comments
Durant missed Games 2 and 3 with a calf strain

The Atlanta fanbase appears ready to go for Game 4

Ibaka struggled during Games 3 and 4 in Milwaukee
For the first time, the NBA will be holding an awards show after the season

The Pacers president was there to deliver Indiana's bid for the 2021 All-Star Game

Is Paul George in a Laker uniform just a formality at this point?