Kobe Bryant, World Peace among top 10 disliked athletes
Los Angeles Lakers Kobe Bryant and Metta World Peace both scored in the bottom 10 of notable athletes for popularity, according to the N-score.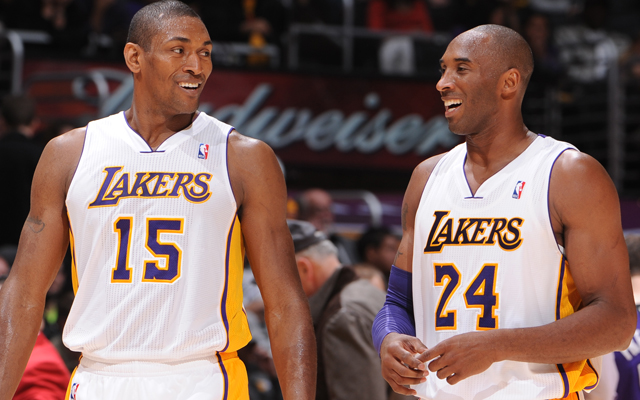 It's funny, because we are disliked and yet play for the most popular team on the planet.
(Getty Images)
Los Angeles Lakers Kobe Bryant and Metta World Peace made the list of the top 10 most-disliked athletes in the world, according to the N-score measure taken yearly by Nielsen and E-Poll, via Forbes.com. The poll is limited to active athletes. 
MWP came in with just 21 percent of the public's support, landing sixth on the list. Bryant came in with 27 percent, at No. 10. They are the only two NBA players on the list, which is headlined by Manti Te'o and Lance Armstrong, along with such athletes as Tiger Woods, Michael Vick, Kurt Busch, and Bears quarterback Jay Cutler. 
Notably absent from the list? 
James spent the past two years on the list after "The Decision," but after his public image makeover, which featured a new publicist, an NBA title run, and an Olympic gold medal, it would appear the public has forgiven him for his numerous PR gaffes. Winning helps, as well. 
You wonder if MWP's status on the list is influenced by the vicious elbow he laid on James Harden last season. World Peace was suspended one game his week for a jab to Brandon Knight in Detroit. 
Even Floyd Mayweather weighs in on the war of words between the two stars

The three-team deal would have also shipped Kevin Love to Denver

Ball wasn't happy about a foul call, swore at a referee and took his team off the floor
Jared Sullinger wants back in the NBA; he knows his weight will play an important part

Cleveland is one of Rose's biggest suitors, and the Irving situation could lead to an even...

Five years later and Celtics fans continue to throw shade -- Allen later deleted the comme...