Kobe tweets he wants Dwight Howard and Pau Gasol back
It's a big offseason for the Lakers. Do they keep Dwight Howard? Do they keep Pau Gasol? Kobe Bryant is adding his two cents.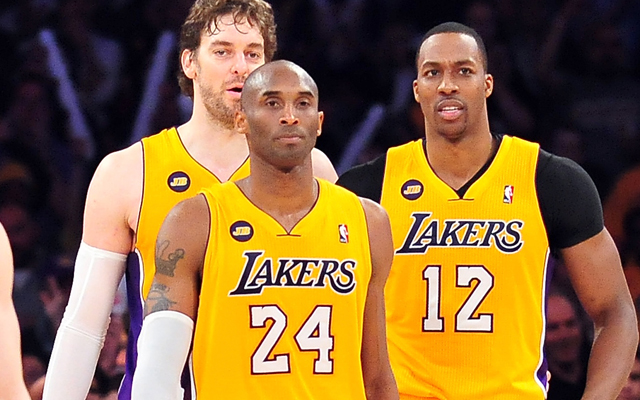 During the playoffs, he was Coach Kobe for a game. And now, he's General Manager Kobe.
The Lakers have an offseason ahead of them that's full of questions. Dwight Howard is (finally) an unrestricted free agent. Pau Gasol seems to be a logical candidate for trade discussions. And in general, the team is kind of old.
What do they do, especially with Howard and Gasol? To be determined, but Kobe Bryant is making sure his opinion on the matter is heard. He wants to both Howard and Gasol back. 
Interesting off season looming. Will spend time with d12 #stay and talk with the Buss family in hopes that Pau stays as well #my2cents

— Kobe Bryant (@kobebryant) May 21, 2013
It's likely the Lakers will offer Howard a five-year max, seeing as they gave up quite a bit to get him in a trade. Howard may choose to go elsewhere, but the Lakers didn't deal for him without the long-term in mind. 
But Howard reportedly has been frustrated with Mike D'Antoni and has had rumored clashes with Kobe as well. Nothing new when it comes to Howard, though, as he's basically the king of organizational drama. 
Gasol is on the hook for just one more season and $19 million. He's perpetually been on the trading block, but there's also been talk of him being amnestied, which isn't likely. The Lakers, though, could be looking at a $100 million payroll next season, which is the first season for the new escalating luxury tax. So the Lakers could be looking at paying an $80-85 million tax bill if they bring everyone back. 
That kind of stuff doesn't matter to Kobe, though. He's in the game to win, and he thinks the Lakers as currently constructed well enough to do it. Apparently. Because he wants the same team back that went 45-37 and barely scraped into the playoffs. 
Show Comments
Hide Comments
Shaq says LeBron isn't comparable to any one legend, rather a mixture of several greats

Kevin Love says the Cavaliers are on the same level as the Warriors: 'We match up well'

Former Lakers star is now an executive for Golden State
How do the Cavaliers flip the script for a second straight year?

Boston lacks the size, rebounding and rim protection necessary to take on bigger lineups

What happens when the Death Lineup comes in? Can Kyle Korver keep it up?