Kyrie Irving sounds off on media after more speculation
Kyrie Irving's future with the Cavaliers has been in constant focus, a source of major attention. But the star point guard is adamant about it, and says he'd like to be left alone.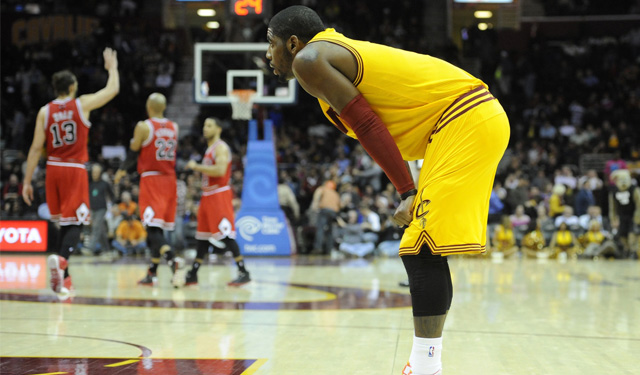 More NBA: Power Rankings | Expert Picks | Seasons in Review | Playoff Picture
Does Kyrie Irving want out of Cleveland?
That is a question that's been recited seemingly countless times, with Irving himself doing his best to answer it as much as possible. 
The organization has been a place of dysfunction and losing since LeBron James left in 2010, with high draft picks going to waste and the front office and coaching staff constantly getting turned over. 
Because of all that, speculation has always circled that Irving must be unhappy, with reports of his desire to leave the Cavs once his rookie deal is up popping around. Recently, former Cavs reporters and current ESPN.com writer Brian Windhorst told Cavs: The Blog that Irving has been telling people he wants to leave Cleveland. 
And, as far as Kyrie, rumblings and stuff, with LeBron I would have let it go. Well I'm not going to let it go [now]. I'm going to talk about it and here's the truth:

The truth is [Kyrie's] camp has been putting out there for years – years – that he doesn't want to be in Cleveland. That they don't want him in Cleveland. He doesn't like Mike Brown. He didn't like Chris Grant. He doesn't like Dion Waiters. He's already gotten a General Manager fired. He might get Mike Brown fired. This is the last time – once he signs he loses all of his leverage – so this is the last time he gets to enact leverage.
And that has sparked a loud, emphatic response from Irving himself:
Sick to my stomach with all these rumors and accusations. Can I play without media guessing at my life and putting B.S out for headlines.

— Kyrie Irving (@KyrieIrving) April 5, 2014
It brings nothing but negativity to the team and portraying me as something I'm not. I don't want or need the attention, so it can stop now.

— Kyrie Irving (@KyrieIrving) April 5, 2014
At least be man or woman enough to come and ask me. There's no such source as "Kyrie's camp", nothing but nonsense.

— Kyrie Irving (@KyrieIrving) April 5, 2014
Irving has always maintained, at least publicly, that he wants to stay in Cleveland. In January, he said, "I'm pretty sure I'm going to be here a long time."
Irving will be eligible for an extension after next season, which means he's signed through 2015-16 guaranteed with the Cavs. But I'm not sure that exactly qualifies as "a long time." We'll just have to watch it play out.
Show Comments
Hide Comments
The Bulls guard fielded questions about his future during exit interviews on Saturday

The two teammates were still up playing at 4 a.m.

Clippers point guard helped make sure Pierce's career would last at least one more game
The Celtics star coach looks ready to take the throne as one of the great coaches in the l...

Utah couldn't clinch at home, and the Clippers live another day

The Celtics coach appeared to be upset when the chants broke out