Lakers' horrid season ends; fixing it will hurt, may include losing Kobe
From the 1-4 start to Kobe's Achilles, this season was a Lakers nightmare. Ken Berger says hardships abound in fixing it and could include amnestying Bryant.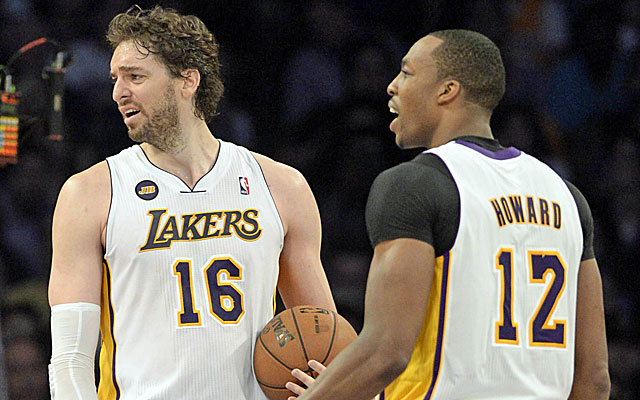 With their disastrous season now behind them, the Lakers move on to even more unsightly business: figuring out what went wrong and how to fix it.
In many ways, the process of sorting through culprits and solutions will be even more daunting than the journey itself.
It began, of course, in the halcyon days of training camp, when Kobe Bryant insisted that he and Dwight Howard could play together and Mike Brown tried to peddle the ill-conceived notion that the Princeton offense was the way to go. Before we had any clue about the first fallacy, the second one already was out the window. Brown was fired after a 1-4 start, the Princeton offense was scrapped and a new direction was chosen.
More on Spurs-Lakers
Related links
More NBA coverage
To the dismay of many, that direction did not include a reunion with the Zen Master, Phil Jackson, he of the 11 championship rings and a mastermind full of zingers and non sequiturs -- perhaps the only living coach with the clout and mental fortitude to pump the water from the sinking vessel that was the Lakers.
Jim Buss went with Mike D'Antoni, a fine idea since Steve Nash soon would be ready to pilot that distressed ship to calmer seas. That, of course, never happened. By the end, the 39-year-old Nash was powerless to impose his basketball gifts on this season as he limped into the darkness of a first-round sweep by the Spurs, which ended with Sunday's 103-82 loss, barely able to move.
In an inspiring yet somehow vaguely pathetic push to claim the mere victory of a playoff berth, the Lakers lost the great Kobe Bryant to a torn Achilles tendon -- an injury that cast doubt on how much Bryant has left in his Hall of Fame arsenal after 17 NBA seasons. Howard emerged to embrace the leadership void, offering a glimpse into what the future could be for the game's most talented big man with a canvas all his own.
What went wrong? So much that couldn't be controlled. But leave it to the incomparable Metta World Peace to put his finger right on the pulse of what could have been controlled -- what could have been done differently in a Lakers season that went so spectacularly wrong.
"At the end of the day, it has to be a collective effort and it has to jell; the system has to work for everybody," World Peace told CBS Sports Radio in an interview on Saturday. "And you have to be the best team with the best coaches and the best players, and it has to make sense; it has to connect. For us, it just didn't connect. It wasn't [anybody's] fault. It just didn't happen.
"It's not necessarily about having the best names," he said. "It's about being the best team. So this year, I felt we had the most talent. It just wasn't translating, and it didn't connect. We didn't connect with Coach Brown. And then Bernie [Bickerstaff] comes in. We connect with Coach Bernie. And Coach D'Antoni comes in, and it works for a little bit, and then it doesn't work, and then it works really well toward the end of the season. ... It's nobody's fault; it just didn't happen. We just did not connect."
As it turned out, the talent, reputations, pride and egos that collided when the Lakers added Nash and Howard required some tough love -- some confrontation -- in order to connect the dots. And with Brown and D'Antoni, two coaches whose positive attributes did not include the Jackson-like ability to confront and demand, the players never got that -- and they never gave the coaches a chance to give it to them.
"I feel like at times the Lakers did not let the coaches coach," World Peace said. "The players -- we didn't let them do their job. So now you get the crowd's chanting, 'We want Phil! We want Phil!' and things like that, which is not a bad thing. But, at the same time, you have to take some responsibility for the season. The fans can't blame Coach D'Antoni, can't blame Coach Brown for a season like this. It's a collective effort.
"Sometimes, we didn't let the coaches coach, and sometimes the coaches didn't coach," World Peace said. "So it goes both ways. Sometimes a coach can get in a tough situation where they respect these All-Stars so much that they don't want to rub people the wrong way. So sometimes I felt we should've been rubbed the wrong way. Sometimes I felt like Coach Brown could've rubbed us more the wrong way. Even Coach D'Antoni could've rubbed us the wrong way sometimes."
D'Antoni has been known first and foremost as an offensive genius but also as a coach who gives his players unprecedented freedom. It's one reason that his reputation as an inflexible tyrant when it comes to his offensive philosophy is so misguided. D'Antoni adjusted his system, made it more isolation-oriented for Bryant and more post-driven for Howard and Pau Gasol. But he didn't demand enough, and World Peace said the players took advantage.
"You have to understand he is a great coach, and you've got to respect the freedom sometimes that he's giving you, and you've got to respect a guy's personality," World Peace said. "If a head coach has his own type of personality, you've got to respect that personality and can't ever take advantage of that personality.
"At times, a coach is trying to implement a system, and at times we didn't let him implement his system," he continued. "And at times he wasn't that hard on us, so it goes both ways."
Barring an unforeseen change of heart from GM Mitch Kupchak, D'Antoni will return next season. What kind of team he'll be coaching and how strenuously he'll be willing to deal with that team is a question with so many tentacles it's hard to know where to begin.
Under normal circumstances, one would begin with Bryant and Howard, the two biggest stars in this equation who never really got on the same page. Howard, a free agent, also is expected back. It would be lunacy for Howard to seek yet another change of scenery after speaking so candidly about embracing the challenge of leading the Lakers out of this abyss. Bryant, who would be entering his 18th season with a $30.5 million salary, is a question mark for the first time in his career.
The long road back from his first catastrophic basketball injury already has begun. The comeback from a torn Achilles is a monumental challenge for a player who is 34 with so many miles in his rear-view mirror.
But could it be any more daunting than getting to a place where Bryant and Howard can co-exist?
"I think it was rough early," World Peace said of the Bryant-Howard union. "I think Dwight really wants to show that he can lead. Sometimes when we try too hard to show that we can lead and we want to lead so bad, we try a little bit too hard. ... I think we tried too hard to prove too much this year."
Long before the soul-searching is over for these Lakers, ominous decisions will have to be made. The payroll already stands at $79 million for next season before Kupchak re-signs Howard. With the All-Star center re-signed, the Lakers will be at roughly $100 million without adding a soul to the roster.
With the new luxury-tax rates kicking in next season, that would put the Lakers' tax bill at a whopping $76.5 million (assuming an estimated $72 million tax threshold.) Beyond the sheer magnitude of the expense, staying irreparably above the dreaded tax apron -- $4 million above the tax line -- would deny Kupchak the tools necessary to improve the roster. No full mid-level exception, no bi-annual exception and no acquiring players in sign-and-trades.
Absent a viable basketball trade for Gasol -- by which the Lakers could acquire some young bodies and shot-makers -- using the amnesty provision on the soon-to-be 33-year-old forward would do little more than save the Buss family on the tax bill. Amnestying World Peace, who has a year left at $7.7 million, would barely make a dent.
Another option would be sending Gasol and Nash out in salary-dump trades without taking back any players. (There are only two teams with enough room to absorb both, Atlanta and Utah.) Further, unless Kupchak felt he could add useful enough pieces with the re-activated full mid-level and bi-annual exceptions, it's hard to see how the Lakers would wind up substantially better by going that route.
Which brings us to Mavs owner Mark Cuban's infamous "amnesty Kobe" statement. As incomprehensible as dumping Bryant with the amnesty provision would be, his $30.5 million salary for next season is by far the lowest-hanging fruit in the Lakers' payroll and roster dilemmas. With one, painful, unpopular and blasphemous transaction, Kupchak could eliminate all of that $76.5 million tax bill, activate the non-taxpayer exceptions and other tools and open the door to trading Gasol and/or Nash in deals that actually would bring back human basketball players instead of simply tax relief.
As you can see, none of these options is particularly appealing.
Bryant has told confidants that he's moving forward with rehab and plans to be back next season. In fact, he has already started working with the Lakers' training staff, barely two weeks after surgery. An aggressive timetable would have him ready to start the regular season, but a more conservative and realistic approach would point more toward Christmas.
Either way, the Lakers team that was on the floor when Bryant sank those two free throws on one leg and limped toward the locker room at Staples Center will never be the same.
Show Comments
Hide Comments
Kerr's health situation is worse than previously thought

Golden State has a 3-0 lead heading to Portland on Saturday

The playoffs are starting to heat up
Our experts predict every series in the 2017 NBA postseason

Our NBA experts predict the first round of the NBA postseason

The Warriors continue to roll without Durant