Lakers' Jordan Hill says D'Antoni wants him to become a stretch four
Jordan Hill is working on his mid-range game after instructions from head coach Mike D'Antoni.
Lakers forward Jordan Hill told ESPN LA this week that coach Mike D'Antoni has asked him to become more of a stretch four, a move sure to elicit groans from the purple and gold faithful who blanched as D'Antoni's efforts to move Pau Gasol into a similar role. 
When the season was over, however, Hill asked D'Antoni -- who coached the player in New York before the No. 8 pick was shipped out of town just months into his rookie season -- what he needed to do to stay on the floor next season.

"He talked about what I need to work on for this coming summer," Hill told ESPNLosAngeles.com. "My jump shot -- he definitely wanted me to work on my outside jumper."

The experiment to turn Pau Gasol into an outside-oriented big man blew up in D'Antoni's face last season. But in Hill, who has played eight fewer seasons in the league than Gasol, the coach found a much more malleable subject.

"That's mostly what I've been focusing on this whole summer, not so much the post work because I know I can go down to the block and easily get an offensive rebound and putback," said Hill, who ranked sixth in the NBA last season in rebounds per 36 minutes (among players who played 25 games or more), according to BasketballReference.com. "We got Pau Gasol that can focus on the paint and we got Chris Kaman that can focus on the block. So I just want to be a stretch 4. Just try to spread the floor a little bit, just show a little range. I've been working on it the whole summer, trying to focus on that, on my 3-ball. It got a lot better. I'm just ready to put it all together and showcase it."
via Jordan Hill's summer assignment - Los Angeles Lakers Blog - ESPN Los Angeles.
And if you were curious how Hill was in limited time due to injury last year from mid-range (he shot 34 percent):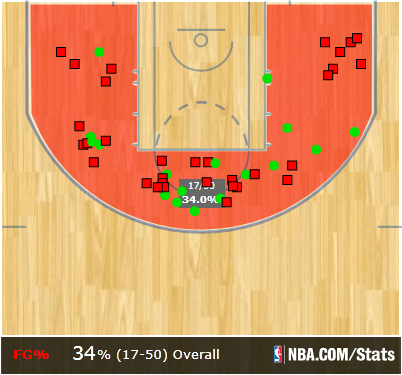 So, that's got some complications to it. 
We'll see if D'Antoni can really rework Hill into what is a radically different player than what he has been over the first few years of his career. Hill factors to play a major role next season alongside Gasol down low. 
Show Comments
Hide Comments
All-Star forward was sent from the Bulls to the Timberwolves on draft night

It's not so much who Boston took, but who it didn't take

Former Bulls star was venting after being traded to the Timberwolves
Phoenix Suns' top pick was a bit off the mark with ceremonial first pitch at Diamondbacks...

Lakers traded Russell to the Nets along with Timofey Mozgov in exchange for Brook Lopez and...

The Lakers introduced their latest high draft pick Friday afternoon