Lakers' Kobe Bryant doesn't know if he'll be ready for season opener
Los Angeles Lakers superstar Kobe Bryant still doesn't know if he'll recovered from a torn Achilles in time to play in the season opener.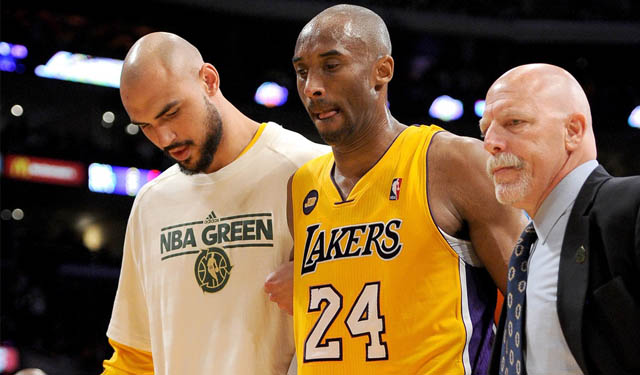 It has been nearly five months exactly since Los Angeles Lakers superstar Kobe Bryant tore his Achilles tendon in a regular season game against the Golden State Warriors. We've seen evidence of the progress he has made throughout the offseason with shots of him on crutches, running and jumping off of a high dive into the pool. He told everybody that he was shattering his recovery time from the serious injury.
But we still have no idea if Bryant will be available to play when opening night of the regular season happens on Oct. 29 when his Lakers face the Los Angeles Clippers. He continues to get stronger and stay ahead of schedule, according to him, but even he doesn't quite know what it means for when he'll be able to return to the court and play basketball again. From Mark Medina at the Los Angeles Daily News: 
More time has passed in Kobe Bryant's recovery from a torn left Achilles tendon. But the Lakers star still hasn't received any clarity as how that will translate when he returns to the basketball court.

"I don't know [whether] that means I'll start the season -- I hope so," Bryant said in a recent interview to Time Out Dubai to promote his upcoming trip there later this month to host a basketball clinic.

"I'm feeling pretty good," Bryant said, "stronger than I was. I'm ahead of [my recovery] schedule."
At the time of the injury, the broad recovery time was between six and nine months. Being able to come back for opening night when the Lakers faithful and television executives will be holding their breath for his return would put him at roughly 6½ months from the time of the injury, which is still on the early side of recovery time. However, he has said that he's ahead of schedule on multiple occasions so it wouldn't be out of the blue if he is back in time.
Most importantly, the Lakers need to get Kobe Bryant back on the court when he's healthy enough to return without further risk of injury or damage outside of just random injury concerns. While Bryant has long been all about putting pain and injury out of his mind so he can persevere on the court, he'll probably be a little more cautious when it comes to returning from the worst injury of his career.
Show Comments
Hide Comments
Houston advances, and San Antonio is set up to follow suit after its Game 5 win

This is fuel to the Westbrook haters' fire

How to watch the first-round series between L.A. and Utah
The playoffs are getting interesting

Harden didn't play great, no one could shoot, and the Rockets still rolled to a 4-1 series...

The Cavs and Warriors have both swept their first-round opponents