Lakers' Pau Gasol (illness) won't play Friday against the Jazz
Los Angeles Lakers' big man Pau Gasol is still sick with an upper respiratory infection and will miss Friday's game against the Utah Jazz.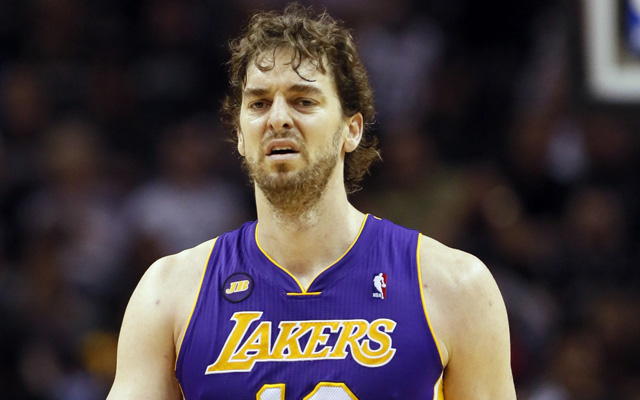 The Los Angeles Lakers are still trying to keep their head above water with the various injuries to their key players. The team is just 13-16 and battling without their starting backcourt while they currently sit three games behind the Dallas Mavericks for the eighth seed in the Western Conference.
They'll have to continue to keep treading water Friday night when they face the Utah Jazz. Pau Gasol is still suffering from an upper respiratory infection and he'll miss Friday's game, according to Lakers.com. 
The Lakers received good news when Jordan Farmar returned to the lineup on Christmas Day, but now they will be without Pau Gasol at Utah on Friday evening. Gasol has been dealing with an upper respiratory illness and is being listed as day-to-day, according to Lakers PR.

Gasol did not practice on Thursday in advance of the team's flight and will not accompany the team to Salt Lake City.

"I think it's lingering a little bit," coach Mike D'Antoni said. "I think it does affect him."
This has been bothering Gasol for at least a week, as he missed the game against the Warriors on December 21 because of this same issue. It was the only game Gasol has missed this season. He played in both games since that loss to the Warriors but the problem still hasn't gone away. He's averaging 14.7 points and 9.4 rebounds on the season to go along with 3.1 assists. He's making a career worst 44.6 percent from the field.
Show Comments
Hide Comments
The series shifts back to Washington for a pivotal Game 5

The Celtics and Bulls meet in Boston for a pivotal Game 5

Kerr is optimistic about making a full recovery
If this is their real list, some of the names are pretty hilarious

The bucket pushed the Spurs' lead to seven, and the Grizzlies never got that close again

Trade Kanter? Re-sign Roberson? What about Westbrook?