Lakers respond to Mark Cuban's 'amnesty Kobe' advice
The Lakers respond to Mark Cuban's comments, saying they feel they were "inappropriate."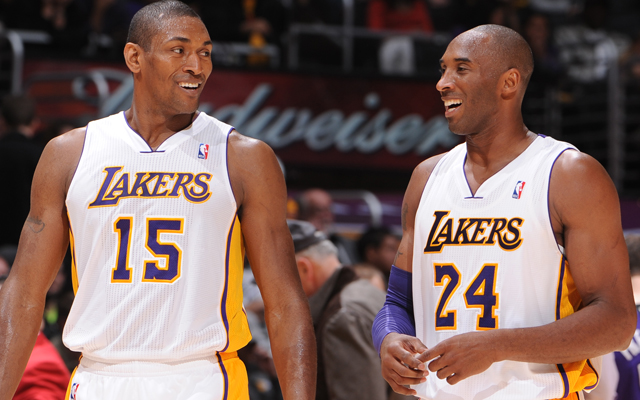 Both Metta World Peace and Kobe Bryant are still eligible to be amnestied.
(Getty Images)
Mark Cuban had an idea for the Los Angeles Lakers and not surprisingly, chose to share it.
Essentially, the Mavericks owner said the Lakers should consider using the amnesty clause on Kobe Bryant. And the Lakers didn't appreciate it. Via the L.A. Daily News, the team had a response:
"We're aware of Mark Cuban's comments. We feel they're inappropriate," Lakers spokesman John Black said. "As far as the issue itself, we're not going to comment publicly on the amnesty issue as it relates to any of our players."
"If you look at their payroll, even if Dwight (Howard) comes back, you've got to ask the question: Should they amnesty Kobe?" Cuban said during an appearance on ESPN Dallas 103.3 FM's "Ben and Skin Show."

"So I'm just saying that hypothetically. When I say amnesty Kobe, I don't think they'd do it, but they've got some choices to make. Now, they're in a big market, but they're still limited. The Knicks, the same thing. Boston, same thing."
I'm sure Cuban is hanging a "mission accomplished" banner in his office for forcing a response from the Lakers and getting under their skin a bit. That's what he does, and he does it extremely well.
Bryant was asked about it and properly blew it off saying simply, "I bet he did," in response to Cuban's suggestion.
The issue is real, though. Bryant is set to make a league-high $30.45 million next season, which will put the Lakers over $100 million in total payroll. With the new punitive luxury tax, the Lakers would owe around $85 million in tax payments because of it.
The Lakers still have their amnesty provision, having not used it yet. The rule is that you can use it once on a player on your roster when the new Collective Bargaining Agreement was signed. So the Lakers only have four players eligible -- Pau Gasol, Metta World Peace, Steve Blake and, of course, Bryant.
In some ways, it honestly does make sense, but come on, it's not happening and we all know it. Cuban was stirring the pot and having some fun.
Also fun: The Lakers play the Mavericks on Sunday.
Show Comments
Hide Comments
On a night of blowouts, Stephen Curry led the Warriors to a sweep and the Raptors got their...

The playoffs are getting interesting

The Cavs and Warriors have both swept their first-round opponents
Our NBA experts predict the first round of the playoffs

Our experts predict every series in the 2017 NBA playoffs

Golden State swept the series, 4-0