Lakers retire Shaq's jersey . . . backward
The Lakers retired Shaquille O'Neal's jersey backwards Tuesday night.
We didn't catch it the first time. I noticed something about it looked weird but couldn't put my finger on it, and didn't think anything else of it. But Trey Kerby of The Basketball Jones? He's a real journalist. 
Notice anything wrong about Shaquille O'Neal's banner for his recently retired jersey? Like I don't know, maybe a notched collar at the top that clearly shows us that this is the front of a Lakers jersey, rather than the back where "O'Neal 34″ is supposed to go? Yep, that's exactly what is wrong.
via The Lakers honored Shaq with a backwards jersey | The Basketball Jones | Blogs | theScore.com.
No, seriously.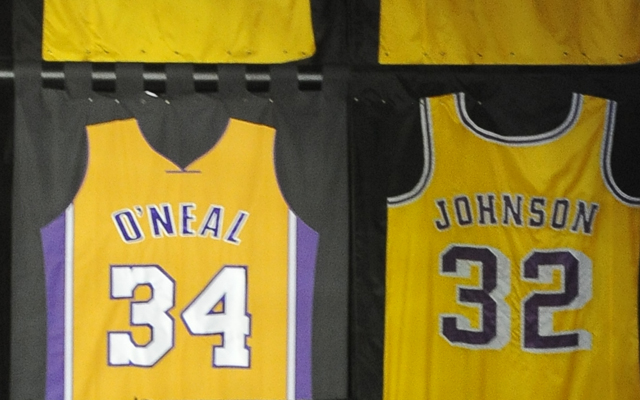 So that's awkward.
The Lakers told Yahoo Sports that they're going to fix the jersey, but it might take "a couple of weeks."  So that's fun. 
But hey, it was that kind of awkward, but fun night at Staples: 
Show Comments
Hide Comments
Our Latest Stories
Boston's All-Star guard: 'It's weird what they were doing'

The second-year Suns guard got a lot of love on social media

Second-year guard's franchise record includes 51 in the second half, 28 in the fourth quar...
Former Laker greats, including Kobe Bryant, speak at ceremony

Who faces who, who's in, who's out, and what happens next?

Spurs assistant is well-positioned to be the first female NBA head coach