Lakers-Spurs Game 3 Preview: Are there any reserves to call in?
The Lakers desperately need to find backcourt players to keep the San Antonio Spurs from going up 3-0 in the series.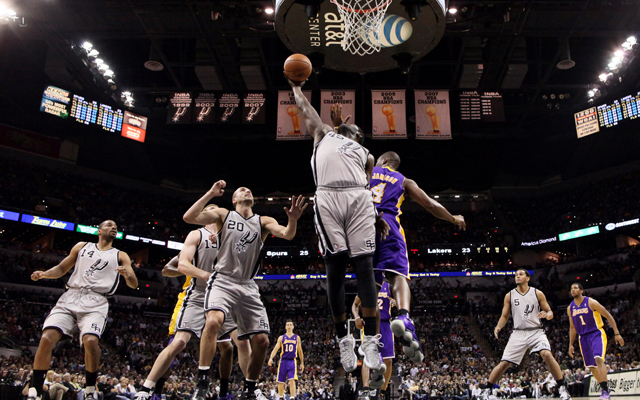 Previewing Game 3 of the Spurs-Lakers first round series.
1. Where We Are: The San Antonio Spurs are up 2-0 on the Los Angeles Lakers. The Spurs haven't been dominant in these two games, but they've clearly been the better team. Maybe that's due to L.A. injuries or maybe it's due to San Antonio's depth and talent, but the Spurs definitely seem to have everything working in their favor. It starts with Tony Parker. His penetration and ability to break down the defense have been devastating to the Lakers, and everybody else on the Spurs falls in line after him to pick L.A. apart. Between him, Manu Ginobili's revival, Kawhi Leonard's chameleon-like ways and Tim Duncan anchoring both ends of the floor, it's hard to find a weakness for the Lakers to exploit.
2. The Big Number: 13. The Lakers aren't a good free-throw shooting team. That's largely due to Dwight Howard dragging down the team percentage, but they were last in the NBA this season. However, even with the team and Dwight shooting free throws poorly, they have to get to the line more than the 13 times that they did in Game 2. In fact, Dwight should be taking at least 13 free-throw attempts in Game 3. Even if it's not pretty, getting to the free-throw line (at least double what happened last game) will put the Spurs in foul trouble and show a good aggressive style of play. It's unlikely they'll trick Duncan into foul trouble (only had four or more fouls four times this season), but they've got to get San Antonio into the penalty as early as possible each quarter.
3. Key Adjustment: Become a 3-point threat. The Lakers need perimeter help in the worst way, and the only way to get it might be to simplify things by trying to generate some 3-point shots from the corner. They'd ideally get this off dribble penetration and kickout passes, but we don't know if anybody will be available to do that for the Lakers in Game 3. So everything probably has to run through the post and then out to the corners. L.A. has only taken seven corner 3-point shots in this series. They've made three of them. They've made just 29.7 percent of all 3-point attempts in the first two games. Someone has to step up and start taking the initiative from downtown.
4. The Big Story: Do the Lakers have anybody to play in the backcourt? Steve Blake isn't going to play in Game 3. Steve Nash and Jodie Meeks are doubtful. Who is left? Darius Morris, Chris Duhon and Andrew Goudelock seem to be the only options left. We're talking about a playoff game that is pretty much do or die for the Lakers. And they have to rely on a trio of third-string guards. Even if they find a few guys to fill in and play backcourt minutes, can we even expect them to have decent games? This could get ugly quickly.
5. The Facts: 10:30 p.m. ET start time. Steve Nash and Jodie Meeks are both doubtful to play. Steve Blake is out for Game 3.
Show Comments
Hide Comments
And Grizzlies coach David Fizdale didn't exactly disagree

Toronto survives, but struggles to do so

San Antonio will face the Houston Rockets in the second round
The 40-year-old is coming up big in the playoffs

Toronto eliminated Milwaukee in Game 6 on Thursday

Surgery is to "repair core muscle-related injuries"