Lakers' Wesley Johnson has a foot injury; MRI on Monday
Los Angeles Lakers forward Wesley Johnson has been the talk of the Los Angeles Lakers training camp but injured his foot against the Denver Nuggets. He'll have an MRI on Monday.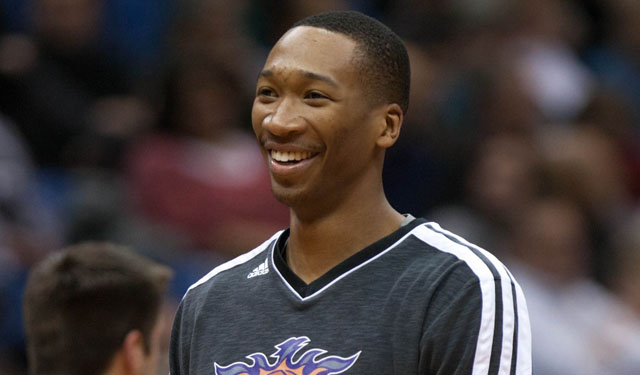 The talk out of training camp for the Los Angeles Lakers has been glowing when it comes to Wesley Johnson, the former No. 4 pick in the 2010 NBA Draft that is looking to revive a career that has already included stops with the Minnesota Timberwolves and Phoenix Suns. After his rookie contract ran out, Johnson agreed to a one-year minimum deal with the Lakers and by all accounts has looked great during the early parts of preseason.
Those good vibes about Johnson could be a bit derailed though. During the first quarter of their loss to the Denver Nuggets on Sunday night, the Lakers wing man apparently felt a burning sensation in his foot and left the game with a foot injury. According to Dave McMenamin of ESPN Los Angeles, Johnson will have an MRI on Monday to get a better idea of the severity of the foot injury. 
Johnson left the game in the first quarter because of a strained left foot, finishing with only two points and three rebounds in eight minutes, while shooting 1-for-5 from the field with two turnovers. 

"There was some burning sensation in his foot," Lakers coach Mike D'Antoni said. "We're hoping [it is] not bad." 

Johnson has an MRI exam scheduled Monday to examine the injury.
There is no way of knowing if this is the cause or if the injury was going to happen anyway, but the first set of back-to-backs for teams in the preseason may have already led to an injury for one of the players. The scheduling of back-to-backs in the preseason, even with deeper rosters and limited minutes for key players, has been something people around the league have been questioning a bit.
Johnson struggled in the Lakers' preseason debut in a victory over the Warriors. He scored just two points on 1-of-5 shooting in 21 minutes off the bench. He also had two turnovers, four fouls, and three rebounds in that game. He matched those two points on 1-of-5 shooting in eight minutes against the Nuggets on Sunday night before leaving the game with the foot injury.
Show Comments
Hide Comments
Draymond wasn't mad about the move, though. He was mad about the way he heard about it

All-Star forward was sent from the Bulls to the Timberwolves on draft night

It's not so much who Boston took, but who it didn't take
Former Bulls star was venting after being traded to the Timberwolves

Phoenix Suns' top pick was a bit off the mark with ceremonial first pitch at Diamondbacks...

Lakers traded Russell to the Nets along with Timofey Mozgov in exchange for Brook Lopez and...