Larry Bird says he backs Frank Vogel '100 percent'
Pacers president is behind coach even as team has suffered major late-season slide.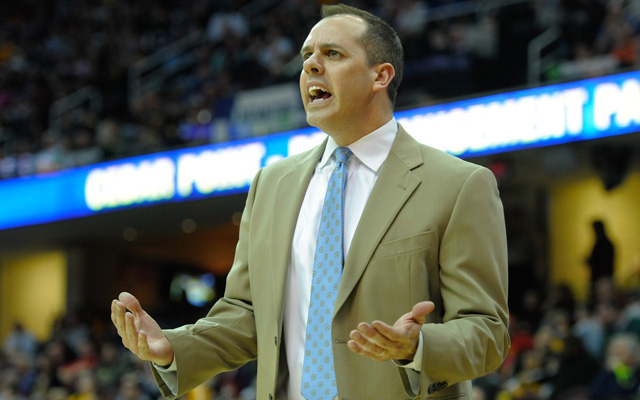 More NBA: Power Rankings | Expert Picks | Latest news, notes
With the Pacers having gone through a fairly epic collapse before their win over the Oklahoma City Thunder on Sunday, there have been rumblings that if the fall were to continue to the point that the Pacers were eliminated before the Eastern Conference Finals that they could make a change at coach. Frank Vogel took over for Jim O'Brien in 2011 and lead the Pacers on this run that has turned them into pseudo-contenders. 
But if the Pacers fell from the best team in the league to a second or first-round out, heads would have to roll, right? Larry Bird dismissed those talks over the weekend. 
"And now we're not playing well at all," he said. "We're all out of sync. Our defense is not carrying us the way it did earlier in the year. And for us to have success, we have to have a top-notch defensive team."

While some fans have levied criticisms toward head coach Frank Vogel, Bird says he stands by his man.

"I back Frank 100 percent," he said. "There's some things early on this season … I went to him and told him we need to clean everything up."

As to the team's playoffs aspirations, Bird says the goal is to go all the way.

"Our goal is to get to the Eastern Conference Finals, and we believe Miami is going to be there," Bird said. "They're the world champions. They're a well-oiled machine. And we want a shot at them. To do that, we've got to start playing better, and we can't look past anybody we're playing. We've got to think we're the underdog every game."

Still, he said the road to the championship game has been as hard on him as any other fan.

"I think they'll come through this," Bird said of his players, "but it's painful getting there."
via Watch: Dave Furst 1-on-1 with Larry Bird - TheIndyChannel.com.
Let's be clear on this. Bird backs Vogel... now. That 100 percent is going to drop considerably if the Pacers don't meet the Heat in the Eastern Conference Finals. It doesn't matter how they get there. They can go to seven against Charlotte and Chicago or Toronto, but they have to get there. If not, this season has to be viewed as a failure and there has to be some sort of reaction.
Maybe that doesn't mean Vogel's gone, but it's going to mean something. Larry Bird's not exactly known as the most patient and forgiving type. The good news? The second round likely won't start for another three weeks, giving the Pacers plenty of time to right the ship. The win over OKC was a good start. If they can flip a switch in the playoffs and make a run, all will be well. But just the fact that this is being discussed shows you how crazy their late-season struggle has been.
The 24-year-old swingman will become an unrestricted free agent

The youngster hit Oladipo with a nutmeg during a one-on-one game at Oladipo's camp

The Cavs will be looking to upgrade their squad after their Finals loss to the stacked War...
Denver is reportedly also in talks on a three-team trade that would send them Kevin Love

Barclays Center hosted the BIG3's inaugural slate of games on Sunday, with The Answer as a...

Pierce was drafted 10th overall by the Celtics in the 1998 NBA Draft