Larry Bird says the Pacers will match offers to Paul George if need be
According to team president Larry Bird, the Indiana Pacers will match an offer sheet for Paul George if he doesn't agree to an extension.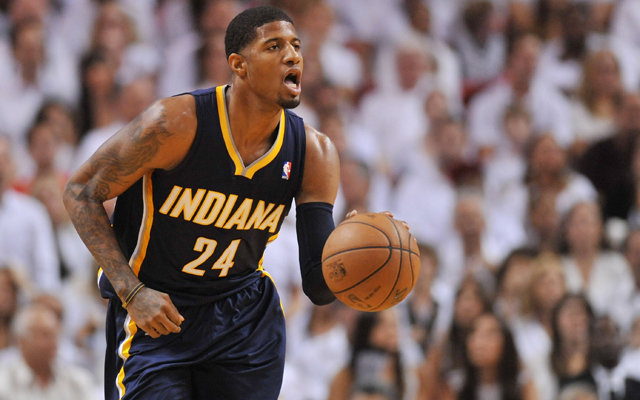 The Indiana Pacers have reestablished themselves as one of the more successful organizations in the NBA after making it to Game 7 of the Easten Conference finals this past postseason. With Roy Hibbert protecting the rim, David West providing leadership and toughness, and Paul George's emergence as one of the best wings in the NBA, the Pacers look like they have a very bright future. 
The tricky thing is keeping that core together as the Pacers begin to approach the luxury tax. The Pacers are roughly $1.3 million below the current luxury tax with 14 players under contract for next season. With George available for his first contract extension until Oct. 31 and a big payday coming for him, the Pacers are going to have to make a big decision regarding their roster. According to team president Larry Bird, they'll make an offer to George and if he declines, they'll match whatever offer he gets as a restricted free agent next summer. Via ProBasketballTalk:
"We're trying to sign Paul," Larry Bird told 1070 The Fan, Indianapolis. "It's not as easy as it looks. We're going to make a major offer to him. It's going to be up to him whether he accept or not or goes out into the free-agency market. If he does, we're going to match. But we'd like to get something done. We know he wants to be here. He's a great kid. He's one of the nicest young men you'll ever meet, and he's a good player. And we think we should take care of him."
Danny Granger's contract expires after this season and will give them $14 million off their current payroll if they don't choose to bring him back. If George gets to restricted free agency, it seems almost certain he would attract max offer sheets from several teams looking to add a dynamic player to their roster. The Pacers won't let him go; they'll just keep him around and then figure out the rest of the roster and salary situation surrounding him.
But if you're looking to acquire someone like George Hill over the next season or two, you might be able to take advantage of a small-market team looking to avoid the luxury tax if they can. It's definitely something to keep an eye on in Indiana. 
Show Comments
Hide Comments
Our Latest Stories
Since Kevin Durant went down, Iguodala has been the Warriors' best player, and he was terrific...

The No. 1 overall pick alley-oops off the glass to himself in spectacular fashion
Harden, Rockets make an MVP statement on Sunday

You won't see the Rockets guard taking games off

Sacramento scores in the final seconds to stage a miraculous comeback at the Staples Cente...