Larry Sanders on rumor he doesn't want to play: 'That's not true'
Bucks center Larry Sanders met the media after the team's loss to Phoenix on Tuesday.
• 1 min read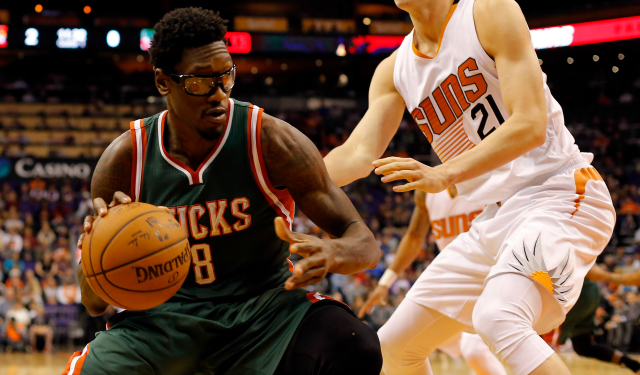 Milwaukee Bucks center Larry Sanders hasn't played since Dec. 23, with the team citing illness and then "personal reasons" to explain his absence, but he rejoined the team to watch their loss to the Phoenix Suns from the bench on Tuesday. He spoke to reporters afterward, and he addressed the rumor that he "told Bucks officials he doesn't want to play basketball anymore," which came from a tweet by the Racine Journal Times' Gery Woelfel. 
"People, I figured, with my absence, something was going to come out sooner or later," Sanders told reporters. "That's not true. But what is true, I would say, [is] I'm in the process of working things out now internally to do what's best for my psyche and my physical health going forward. There's a lot of evaluating going on. There's a lot of inside talk just to put myself in the best place for my health right now."
I urge you to watch the video of Sanders talking to reporters. Sanders is trying to explain himself without sharing specifically what he's dealing with, and you have to feel for him. It's a tricky verbal tightrope to walk.
Sanders said there isn't a timetable for returning to the lineup. 
"I kind of go by recommendation," he said. "Just definitely keep my ear to those who are close to me and see what they say is best for my health going forward."
He added he's "trying to get to the root of a lot of issues and get them corrected going forward," and that "without these things being corrected, I don't think basketball would be something I could even do."   
While Sanders said it was great to be around his teammates again, you just have to hope it was his decision to be there, not a PR move suggested to him after the rumor surfaced. You also have to hope he's able to resolve the issues that are keeping him away from the court, the details of which should remain private unless he chooses to change that.
Bucks head coach Jason Kidd said that the situation is personal, adding, "The organization has done everything to help him. It's not a distraction. It hasn't affected us, and we just want Larry to get back as soon as possible. He makes us a better team," via ESPN.
Show Comments
Hide Comments
Will Iggy stay in Golden State? Does anyone have any idea what to do with Derrick Rose?

Hoiberg was asked about Isaiah Thomas possibly carrying the ball during Game 5

Celtics point guard does not need anyone to hype up his defense
The Bulls had it, they had it ... and ... it's gone

The Bulls found they were without hot water following their Game 5 loss

Wall finished with 20 points and 14 assists in win over the Hawks