LeBron, Durant, NBA stars deserve organizational say, but how much?
NBA stars wield a lot of influence, but finding that balance of just how much can be the difference in the rise and fall of an organization.
Habitually sipping his diet soda, Stan Van Gundy matter-of-factly let something else flow -- something far more nutritious and illuminating.
The truth.
Dwight Howard wanted him fired, Van Gundy revealed on an April morning in 2012. He said it with the conviction and the self-assuredness of a man who knew he was speaking facts.
"I was told it was true by people in our management," said Van Gundy, then the head coach of the Orlando Magic. "So right from the top."
A short time later, one of the signature moments in the often awkward and combustible dynamic between star players, coaches and management unfolded. Howard himself sidled up to the interview scrum, draped his massive arm around Van Gundy and beamed his 1,000-watt smile. In NBA media circles, it is widely considered to have been the greatest shootaround interview session of all time.
When Van Gundy left, Howard became combative and evasive with reporters who dutifully followed up: Are the stories that you want your coach fired true?
"Come on, man," Howard said, peering down from his perch as the most powerful man in the Magic organization.
"Stan just said they were true," a reporter said.
Howard squirmed, stalled, deflected and demurred. It was great theater, great television, great YouTube -- and it pulled back the veil on how things actually work when superstars exert their influence within NBA teams' personnel, coaching and management decisions.
NBA stars may have suffered some losses at the bargaining table over the years, seeing max contracts capped and watching their share of the league's ever-expanding revenue streams fall precipitously. But nearly four years after Howard was exposed as a jovial, devil-may-care coach killer, the stars of the sport hold more power and influence than ever.
"This is the team that they go out there and compete with, so [star players] should have some kind of say-so," Rockets guard James Harden said. "Obviously, the owners and the general managers and those guys have the final decision, but the star player should have some kind of input. 
"If you're the star player and you're going out there trying to lead that team every single night," Harden said, "I think that should be the case."
Few players in the NBA have been as assertive as Harden when it comes to franchise-shaping decisions of the highest order. He now plays with Howard in Houston, of course, and the Rockets' season has been one disappointment after another. After a trip to the Western Conference Finals last season, Houston started the season 4-7 and promptly fired coach Kevin McHale.
Multiple league sources told CBS Sports that Harden pushed management to dump McHale, and has since angled for the Rockets to trade Howard. Rockets GM Daryl Morey delivered on the first demand, but was unable to find a suitable deal for Howard at the trade deadline this month.
"It's really bad for the locker room dynamic," a person familiar with the situation told CBS Sports. "If everybody knows that James Harden can fire you or trade you, are you going to pass the ball to Dwight or are you going to pass the ball to James Harden?"
Harden is hardly alone among star players who have tried to influence decisions up the NBA management chain. It's a tradition as ubiquitous as pre-game pounds and hand-slaps after missed free throws.
Grant Hill didn't support Doug Collins in Detroit in the late 1990s, and Collins was fired. Ditto for Penny Hardaway and Brian Hill in Orlando. The great Magic Johnson deserves as much credit as anyone for ushering in the Pat Riley "Showtime" era with the Los Angeles Lakers , having exerted his influence to elbow Paul Westhead out of the way.
Gary Payton and Paul Westphal in Seattle. Jason Kidd and Byron Scott in New Jersey. No one has gone to such lengths as Latrell Sprewell did in wrapping his hands around P.J. Carlesimo's neck, but in this era, they don't have to.
Stars are in such demand and are so difficult to get -- and keep -- that all they have to do is say, "Jump," and management often will ask, "Where do you want me to land?"
No player has wielded more power during the modern era -- maybe ever -- than LeBron James . He orchestrated the historic formation of the Big Three in Miami when he teamed up with Dwyane Wade and Chris Bosh to the tune of two championships and four consecutive trips to the NBA Finals.
Shortly after being selected No. 1 in the legendary 2003 draft, James hired his longtime friend, Rich Paul, as an advisor on a $50,000 salary, The New York Times reported in a 2014 profile. Paul has since become James' certified agent, forming an agency called Klutch Sports Group that counts James' teammate Tristan Thompson , Wizards All-Star John Wall and Suns point guard Eric Bledsoe among its clients.
In a recent interview with CBS Sports, James referred to the agency's clientele as "my Klutch athletes," which was either a Freudian slip or a moment of unvarnished self-awareness about the power that he wields. Kobe Bryant has long enjoyed such influence within agent Rob Pelinka's Landmark Sports Agency, leading some in the industry to wonder whose name belongs atop the organizational chart -- Pelinka's or Bryant's?
As the Cleveland Cavaliers were coming to grips with the possibility of losing James as a free agent in 2010, owner Dan Gilbert swept the team's suburban offices clean. Following another playoff loss to the Boston Celtics, the Cavs fired coach Mike Brown and agreed to that old staple of front-office moves with GM Danny Ferry -- the "mutual parting."
It was a poorly disguised effort to show James the team meant business and would be prepared to put people in place who would meet James' approval. James, however, wanted no part of being the public king-maker. The Cavs hired Scott, James exited for Miami with his infamous "Decision" performance on national TV, and the rest, as they say, is history.
Scott, who as of 9:28 a.m. ET on February 25 as I write this is still the coach of the Lakers, was fired after three painful seasons in Cleveland. To replace him, the Cavs incredibly rehired Brown -- and then fired him again after one more season.
Whether it's the team trying to placate the star or the star pushing for influence, this is how the sagas often end: with scorched Earth for everyone involved. This is how the Howard era ended in Orlando. After a first-round playoff loss, the team fired Van Gundy, "parted ways" with GM Otis Smith and traded Howard to the Lakers.
The franchise is still trying to recover. Howard is on the Rockets now, having left the Lakers as a free agent in 2013 after one miserable season. He's widely expected to leave again this summer when he opts out of his contract amid an historic rise in the salary cap that will arm as many as 20 teams with a maximum salary slot.
It's a cautionary tale of what can go wrong when players expand their influence beyond the white lines.
"They want the influence and they want the say, but they want no accountability for it," an executive with a team told CBS Sports.
The lines of power have been further blurred by a trend in the agent industry in which some player agents also have taken on the representation of coaches and management. As CBS Sports has reported, it's a practice that has long been a violation of the National Basketball Players Association's agent regulations that have never been enforced -- until now.
This week, the NBPA notified certified agents of sweeping changes to the regulations, including notice that the long-dormant rule forbidding player agents from representing coaches and general managers will now be "strictly enforced." It may be too little, too late, but it begs the question of just how much power and input stars should have in teams' decisions.
"I think it should be a healthy conversation," Oklahoma City Thunder All-Star Kevin Durant said. "I wouldn't say that a player should have authority to make decisions like that. We play the game -- that's what we're supposed to do -- and those guys get paid to do their jobs and you have to trust them."
When I asked Durant about this topic during All-Star weekend in Toronto, he revealed that being an NBA general manager someday is one of his goals. It makes sense; players of Durant's stature already have plenty of on-the-job experience.
"I'd definitely want to have conversations with my best players and coaches to just kind of feel things out and make a decision on my own," Durant said. "That's what we do in Oklahoma City. Sam Presti and I have a great relationship, but I don't make decisions. I trust him with every decision he makes. He trusts me as a basketball player. I just think you've got to let those guys do their jobs."
Durant's teammate, Russell Westbrook , said the dynamic "all depends on the management team's history." He called it "a great honor" to be included by Presti and the coaching staff in strategic and personnel decisions.
It's simultaneously an honor and a curse. When All-Star LaMarcus Aldridge left Portland for San Antonio as a free agent this past summer, there was "a collective sigh of relief" within the Trail Blazers organization, according to extensive reporting by The Oregonian. So sensitive and demanding was Aldridge, the newspaper reported, that a memo had been sent to the team's marketing staff at one point, stating that all commercial and publicity projects were to run first through Aldridge.
Asked during All-Star weekend about how much power star players should have, Aldridge clammed up. When pressed about how much he wants to be consulted about team decisions, Aldridge quipped, "I'm not consulted at all. I'm with the Spurs."
And it's true; not all NBA teams bend over backwards to accommodate their stars' every whim. The Spurs are the gold standard for meritocracy. The Mavericks' triumvirate of owner Mark Cuban, GM Donnie Nelson and coach Rick Carlisle is as autonomous as it gets. 
In building a championship team in Golden State, Golden State Warriors owner Joe Lacob and GM Bob Myers consulted Stephen Curry and other locker room leaders about the decision to fire coach Mark Jackson after the 2013-14 season. Ultimately, they fired Jackson over Curry's objections. After his replacement, Steve Kerr, led the Warriors to their first title in 40 years and now (with a big assist from Luke Walton) has the team on pace to break the Chicago Bulls' record of 72 regular season wins, nobody is second-guessing that decision.
Especially not Curry.
"I expect they'll ask me about a potential move, whatever it is, how it'll impact the team, the chemistry, and this and that," Curry said. "But at the end of the day, that's not my job. If it was, we probably wouldn't have the team we have right now. I'll stick to shooting, playing with the teammates that we have, and hopefully whatever that means down the stretch, Bob and the front office continue to do the job they've been doing."
For some stars, trying to influence the hiring and firing of coaches is where the line should be drawn.
"I always believe that if it comes down to players, who you're going to be out there with, I do believe that the player should have some type of input," Knicks All-Star Carmelo Anthony said. "But when it comes down to the managerial things -- front office, coaches and things like that -- I don't think we can control that."
In January, with the Cavaliers sitting atop the Eastern Conference with the third-best record in the NBA, the team fired coach David Blatt. He'd been hired in 2014, before James decided to leave Miami and return home to Cleveland as a free agent. One of the most decorated international coaches in history, Blatt won 53 games in his rookie season and led the Cavs to the NBA Finals, where they lost in six games to Golden State -- without injured All-Stars Kevin Love and Kyrie Irving .
But Blatt and James never connected, a death knell for any coach who fails to get in lock step with his best player. Rumblings quickly surfaced that James had been behind the decision to fire him, and the four-time MVP -- who never formally asked management to fire Blatt, according to multiple sources -- was furious.
"I've never, in my time since I picked up a basketball, ever undermined a coach," James said.
James understands how powerful he is, and thus has to take more care than almost any player in history about appearing connected to decisions that are above his title, if not his pay grade. Despite his efforts to distance himself from the Blatt firing, though, one rival executive said, "Are you kidding me? Do you expect anybody to believe that?"
When it comes to his power and intelligence about winning, James often finds himself in a no-win situation. If he abdicates, he isn't leading; if he asserts himself, he's meddling.
"What do you guys want me to do, turn my brain off because I have a huge basketball IQ?" James said. 
When it comes to NBA stars and their influence, there is no way to power it down -- only a volume rocker that makes their voices grow ever louder.
Even in denial.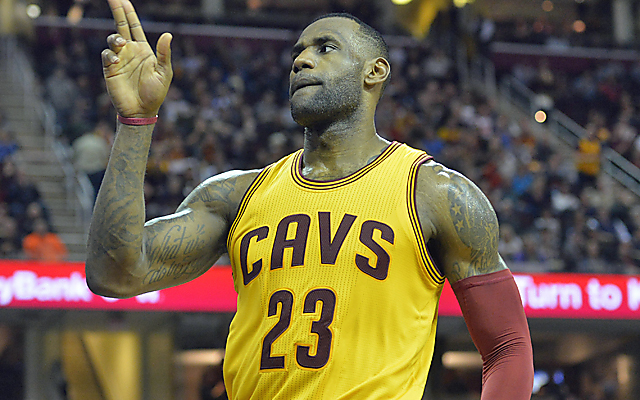 Show Comments
Hide Comments
Our Latest Stories
Quite a commitment from someone who hasn't suited up for Orlando yet

Power forward is also a pain point for a lot of teams

Desperate times for a 33.3 percent free-throw shooter
Milwaukee team president Peter Feigin said this in Madison, Wisconsin, last week

He says it's because the players pitched him on 'what they were about'

Star forward becomes third member of the superstar Triad to leave the Heat with negative f...