LeBron James, Chris Bosh deflect questions about future in Miami
LeBron James said he wasn't going to give the media the answers they want about his free agency future after losing to the Spurs.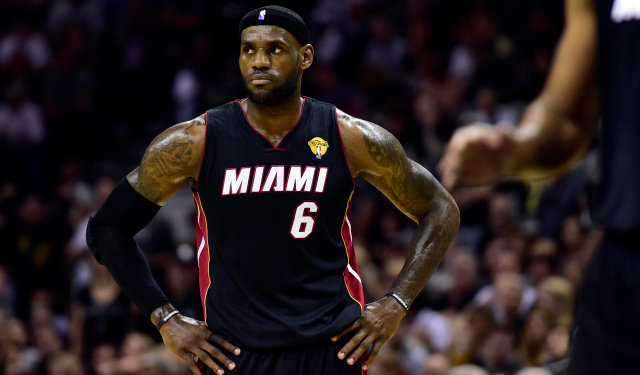 More NBA Finals: San Antonio wins title, beats Miami 104-87 | Court Vision
SAN ANTONIO -- LeBron James deflected questions about his future after losing Game 5 104-87, and the Finals 4-1, to the San Antonio Spurs. James has an early termination option for his $20.5 million deal for next year which he can execute before July 1. 
"I haven't really thought about that just yet" James said at the podium, while seated alongside Dwyane Wade. "Not disappointed in any of my teammates, just wish we could have came through, played a better series, but obviously we just ran up against a better team this year."
Peppered with questions, James shot down further attempts from the media as to what his plans were. 
"I will deal with my summer when it gets to that point," he said. "Me and my team will sit down and deal with it. I love Miami. My family loves it. But obviously right now that's not even what I'm thinking about. You guys are trying to find answers. I'm not going to give you one. I'm jut not going to give it to you. When I get to that point, I'll deal with it, and when it gets to that point." 
James did say he was not at a point where he felt like his teammates weren't good enough. 
"I'm not even nowhere near at that point," he said, adding that he was "proud" of how the Big 3 played. 
The vague answer sets up the possibility of another Decision from James. Wade and Chris Bosh both have early termination options. Bosh also deflected questions about his future. When asked about his future in Miami, Bosh said he wasn't prepared to answer that yet. 
"Well, I'm going there tomorrow," he joked. "I'm going to play with my kids, get away from things for a little bit, reflect on the game. There will be plenty of time for those decisions. Everybody wants answers now, but I don't even know what I'm going to have for breakfast."
It's not just the Big 3 whose deals are up, however. Shane Battier is retiring, Ray Allen may retire and will be an unrestricted free agent if not. The lone player on a guaranteed deal for next year with Miami is Norris Cole. Even Chalmers will be an unrestricted free agent after being benched for Game 5. 
Chalmers, though, made it quite plain his desire to return.
"If that's an option, I'd love to come back with this team," he said, "But I'll sit down with my agent and my family and we'll go from there." 
One way or another, major changes are afoot for the Heat after going 2-2 in the Finals in their first four years of this era.
Show Comments
Hide Comments
The Bulls point guard's thumb is still broken, with significant swelling

This has not been a good playoff run for reporters

Utah's veterans are helping Gordon Hayward and Rudy Gobert win when it matters
Houston advances, and San Antonio is set up to follow suit after its Game 5 win

This is fuel to the Westbrook haters' fire

How to watch the first-round series between L.A. and Utah