LeBron James' deal with the Cavs is for two years, will re-sign
LeBron James' contract with the Cleveland Cavaliers is for two years, $42.1 million with the expectation he'll re-sign when he becomes a free agent.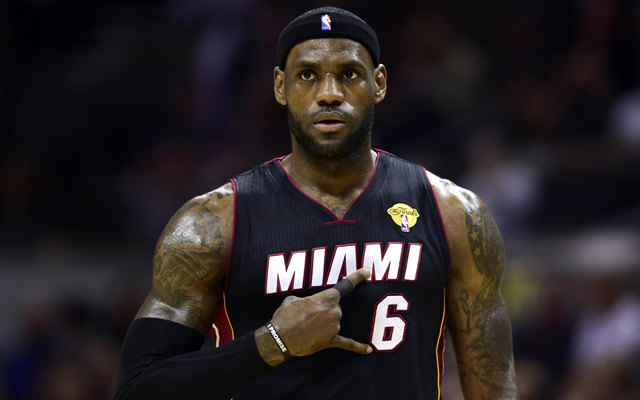 More Offseason Analysis: Coaching changes, news | Free Agency | Draft
With LeBron James returning to the Cleveland Cavaliers, the next question about his return was regarding his actual contract. How long was it going to be? With the Collective Bargaining Agreement likely coming up in 2017 and the league's TV contract coming up in 2016, analysts expect there to be a big increase in the pie being divided up between the players and the owners. It looks like LeBron is very conscientious of this as well. 
CBSSports.com's Ken Berger confirms LeBron's contract is two years with the Cavaliers because of the upcoming change in league money. He'll have the option to be a free agent next season if he wants to, but he's fully expecting to re-sign with the Cavs whenever he does decide to become a free agent again. Brian Windhorst of ESPN.com first reported the contract. 
With an eye towards maximizing the future of the salary cap, LeBron James finalized his contract with the Cleveland Cavaliers on Saturday, sources familiar with the process told ESPN.com.

James has agreed to a two-year, $42.1 million deal with the team with the goal of re-signing with the Cavs before the 2016-17 season when a new television contract is expected to create a large jump in value of the maximum.

As part of the deal, James will have an option to become a free agent next summer but is fully committed to the Cavs long term, sources said.
The two-year deal for LeBron will give him $42.1 million. With this contract, LeBron can have the flexibility of figuring out the lay of the land financially with the league and where the money is headed. If it's advantageous for him to re-sign a long-term max deal to secure the most money for him if the next CBA is going to be even worse for players. Or he can be ready to capitalize on an expected change in the money for max players and the salary cap for teams.
At this point, James wouldn't dare leave Cleveland due to what the backlash would be after coming back for just two years, so the Cavs can rest pretty easy that this is strictly a financial situation for LeBron and not a way to get out if it's not going well.
The 24-year-old swingman will become an unrestricted free agent

The youngster hit Oladipo with a nutmeg during a one-on-one game at Oladipo's camp

The Cavs will be looking to upgrade their squad after their Finals loss to the stacked War...
Denver is reportedly also in talks on a three-team trade that would send them Kevin Love

Barclays Center hosted the BIG3's inaugural slate of games on Sunday, with The Answer as a...

Pierce was drafted 10th overall by the Celtics in the 1998 NBA Draft