LeBron James interested in owning Miami MLS team with Beckham
Miami Heat star LeBron James is interested in teaming up with another star in David Beckham to help bring MLS to Miami.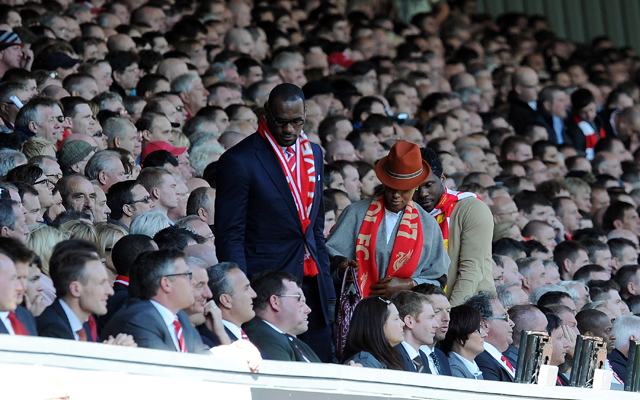 Miami Heat star LeBron James is probably somewhere in the middle of his playing career. The best player in the NBA is also becoming one of the richest athletes we've ever seen as he markets himself into many different walks of life, much like Michael Jordan did decades ago. When his playing career is over, his business career could just be taking off, despite already earning hundreds of millions of dollars in endorsements and business ventures. 
James already owns part of the English Premier League's Liverpool FC and is interested in joining international superstar David Beckham in bringing a Major League Soccer franchise to Miami. From CBS Miami: 
James confirmed on Monday that he is interested in exploring partnering with David Beckham to put a new Major League Soccer franchise in Miami.

Beckham has been looking for a home to a new team and hopes to have a decision by the end of the year. He's reportedly zeroed in on Miami and was in town last week to look at Marlins Park and FIU's football stadium as possible temporary homes for the new team.

MLS would want the city/county/ownership to build a new soccer-only stadium if a franchise is awarded to Beckham and Miami.
As James diversifies his business portfolio, investing in more ownership deals around the Miami area will certainly be analyzed as whether or not that means he stays with the Heat. It's possible he really likes the city of Miami and just wants to add to the sports scene he's helped bring multiple championships to. Or maybe it will be a parting gift to the city if he moves along. 
It's also possible that he just really likes soccer/football and wants to help expand the game in this country in whatever way he can. Regardless, he's interested in MLS co-ownership.
I know very little about soccer/football but I do have some terrible puns to end this post:
• You know, if James wants to own a team in Miami, the city will certainly think he's a keeper.
• I wonder if owning another soccer team has always been LeBron's goal.
• If Beckham approached James about this ownership idea, I'd love to know his pitch.
Show Comments
Hide Comments
The two best point guards in the East go at it in a series sure to be filled with drama.

Breaking down key matchups as the second season reaches the conference semifinal series

The second round of the 2017 NBA Playoffs tips off Sunday at 1 p.m. ET, with Game 1 of Cel...
The Spurs have homecourt advantage, and will host Game 1 Monday night at 9:30 p.m. ET

All-Star guard flew to Washington after Game 6 vs. Bulls to attend his sister's funeral Sa...

Some love for the Rockets over the Spurs, and at least one expert says the Cavs are going...