LeBron James is happy to have Derrick Rose back on the court
With Derrick Rose playing in his first regular season game since the 2012 playoffs, LeBron James is happy have such a good player and tough competitor back.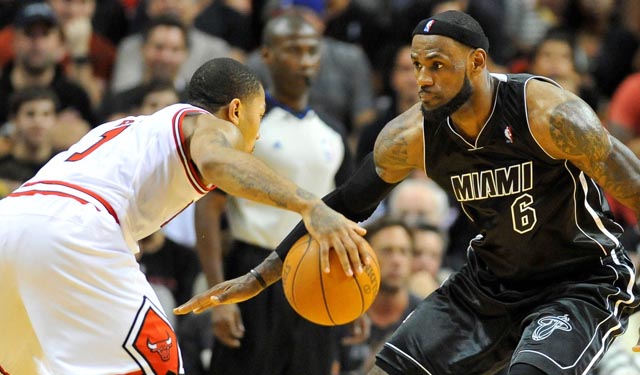 We're a couple days away from the 2011 MVP returning to a regular season game when Derrick Rose and the Chicago Bulls head to Miami to face the Heat on opening night. It will be the first meaningful game back for Rose (sorry, preseason games) since he tore his ACL during the first game of the 2012 NBA Playoffs. It will also be a chance to ruin the ring ceremony for the Heat.
Even with the building rivalry between these two teams, LeBron James is happy to have Derrick Rose back on an NBA court. Because of Rose's talent, work ethic, individual success, and importance to the NBA, James recognizes why it's so important to have the Bulls' franchise star back on the court, even if it means taking on one of the most competitive and special players in the league again. From ESPN.com's Heat Index:
LeBron James says he will reach out to Derrick Rose to personally welcome him back following his yearlong layoff before the Miami Heat face the Chicago Bulls in Tuesday's regular-season opener.

Asked about the prospects of facing Rose, James said after Sunday's practice that it won't be difficult to set aside his competitive nature to take a moment and appreciate how the Bulls' star guard has handled his recovery from 2012 knee surgery that forced him to miss all of last season.

"I'm happy and thrilled that he's back," James said as the Heat prepared to open defense of their second straight NBA championship. "I'm happy with what he did last year, to be able to stand strong throughout everything, throughout all of the adversity of everybody criticizing him about what he should do. He did what was best for him."
There is always this sense within the NBA community when a great player has been out for a long time with a devastating injury. When Kobe Bryant returns from his Achilles' tendon injury this season, you'll see an outpouring of welcoming and respect from players around the league because it's always good to have the top competition and the top players to go against.
With Rose taking so much time to come back from his knee injury, the absence has certainly made the NBA heart grow fonder of him being on the court. James will welcome Rose back to the court by trying to remind him why they're having the ceremony. Rose will welcome the kind words and embrace and then try to show James he has to be worried about defending his title. We'll have two of the best players in the world squaring off Tuesday night. 
Get excited.
Paul George could also end up dictating a lot of summer plans

A look at who your favorite team can possibly acquire this summer in free agency

Eleven rings made him great on the sidelines, but his Knicks run results in the NBA's biggest...
Knicks are looking for new leadership after a shameful run defined by arrogance and chasing...

Houston will send back Patrick Beverley, Sam Dekker, Lou Williams, and a 2018 first-round...

The Warriors have other key squad members to retain, including Andre Iguodala and Shaun Li...