LeBron James leads 2012 NBA All-Defensive Team
The NBA has announced the 2012 NBA All-Defensive teams and LeBron James was the leading vote-getter.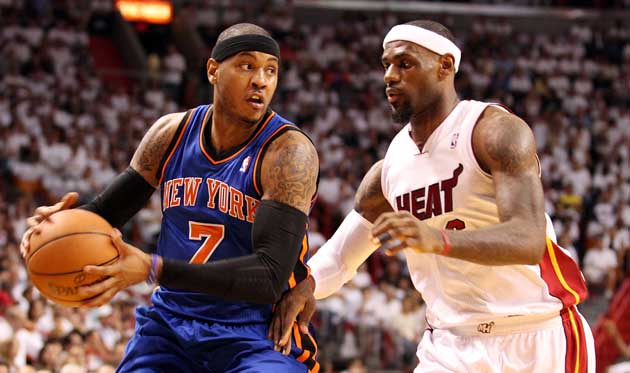 Miami

Miami Heat

forward

LeBron James

headlined the 2012 All-Defense selections.
(Getty Images)
The 2012 NBA MVP was the leading vote-getter in the league's annual All-Defense balloting.
The
NBA
announced on Wednesday that Miami Heat All-Star forward LeBron James, who spent time guarding all five positions this season, led the 2011-2012 All-Defensive First Team with 24 First Team votes and 5 Second Team votes. He was joined on the First Team by Oklahoma City
Oklahoma City Thunder
forward
Serge Ibaka
, Orlando
Orlando Magic
center
Dwight Howard
, Los Angeles
Los Angeles Clippers
guard
Chris Paul
and Memphis
Memphis Grizzlies
guard
Tony Allen
.
The 2011-2012 All-Defensive Second Team included Boston Celtics forward Kevin Garnett, Chicago Bulls forward Luol Deng, New York Knicks center Tyson Chandler, Celtics guard Rajon Rondo and Los Angeles Lakers guard Kobe Bryant.
Earlier this month
, a panel of media members selected Chandler as the 2012 Defensive Player of the Year.
Players were awarded two points for a First Team Selection and 1 point for a Second Team selection. Here's how the scoring broke down.
First Team: LeBron James (53 points), Serge Ibaka (47), Dwight Howard (41), Chris Paul (35), Tony Allen (33)

Second Team: Kevin Garnett (26), Luol Deng (20), Tyson Chandler (36), Rajon Rondo (29), Kobe Bryant (17)
The following list of players also received votes. 
Andre Iguodala, Philadelphia; Joakim Noah, Chicago; Iman Shumpert, New York; Paul George, Indiana;

Russell Westbrook

, Oklahoma City; Josh Smith, Atlanta;

Dwyane Wade

, Miami;

Thabo Sefolosha

, Oklahoma City; Grant Hill, Phoenix; Tim Duncan, San Antonio; Avery Bradley, Boston;

Marc Gasol

, Memphis; Metta World Peace, L.A. Lakers; Shawn Marion, Dallas; Joe Johnson, Atlanta;

Mike Conley

, Memphis; Derrick Rose, Chicago; Jrue Holiday, Philadelphia; Carlos Boozer, Chicago; Luc Mbah a Moute, Milwaukee. 
The NBA's 30 coaches voted on the award. They were asked to make selections for the First and Second team by position and were not allowed to select players on their own teams.
Show Comments
Hide Comments
Westbrook recorded his third straight triple-double of OKC's series against the Rockets

The Pacers president echoed the fans' feelings with one look

The Warriors can complete the series sweep on Monday night
Nurkic, who had been out since March 30, played 17 minutes in his return in Game 3

Cleveland is off to the second round, but questions remain about the defending champs

Cleveland's margin of victory was just 16 points despite a dominant series from LeBron