LeBron James refutes Jordan on whether rings are everything
Count the rings, Jordan says. Not so fast, LeBron replies.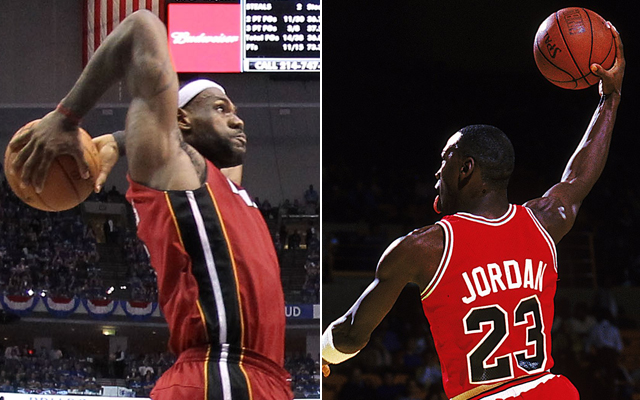 LeBron's not humbled by Jordan's comments.
(Getty Images)
Michael Jordan said in an interview that aired Monday on NBATV that he would take Kobe Bryant over LeBron James. You can imagine the reaction in the sports world. At Friday's All-Star media availability, LeBron responded to the comments. 
Jordan said that he would take Kobe over LeBron because "five [rings] is better than one." 
LeBron said Friday that he wasn't bothered by the comments but that judging players by the number of rings that they have is kind of ridiculous. Courtesy of NBATV: 
"I don't think rings always define someone's career. If that was the case then I'd sit up here and take... (Bill) Russell over Jordan. But I wouldn't. I wouldn't take Russell over Jordan. Russell has 11 rings, Jordan has six. I'd take, I don't know, (Robert) Horry over Kobe.

It's your own personal opinion. Rings don't define someone's career. A guy like Judd Buechler who has multiple rings, Charles Barkley doesn't have any. He's not better than Charles Barkley. Patrick Ewing is one of the greatest of all time. Reggie Miller is one of the greatest of all time.

Sometimes it's the situation that you're in, it's the team you're in, and it's about timing as well.

I don't play the game and try and define myself about what guys say or how they feel about me. It doesn't matter to me. I play for my family, my teammates, my coaching staff, my fans, and that's it."
And here's where we come to the disconnect in our society. 
Our society judges everything in sport based on accomplishment. Not production, which can be measured in stats or by coaching commentary on what they bring to the game, but based on championships. Despite the massive number of games played and the huge number of factors that can influence entire seasons of play, the idea is that greatness is determined by winning, and championships are the proof of victory. 
Charles Barkley, Patrick Ewing and Reggie Miller happened to play in Jordan's era. It's nearly impossible to argue that Barkley's Suns wouldn't have been heavy, heavy favorites to win in a world in which Michael Jordan went to play baseball or be an accountant. But he didn't, and people judge everything based on that. 
James told Yahoo Sports: 
"You don't want to be continued to be compared to someone," James told Yahoo! Sports. "M.J. is one of the greatest that ever played. I don't know if I'll ever put in enough work to be mentioned with him, but I'm also at a point where I'm trying to make my own lane.

"I understand the comparisons. … Some of them are fair. Some of them are unfair to him. I know he's looking at it like, 'Guys shouldn't be compared to me.'"
via Y! SPORTS.
The irony is the reason that Jordan's commentary is taken so seriously about rings mattering is because, guess what? He has six of them. That's proof of his greatness. And that's what hangs. 
What's lost is that after word of the quote leaked Thursday in a video excerpt on TNT, it reveals Jordan says "in terms of championships" when it comes to choosing between the two. His actual first answer between the two? Kevin Durant. 
In a related story, Jordan won his first title after years of frustration in 1991, at the age of 28. 
James won his first title last summer -- at 27. 
This story isn't over. 
Show Comments
Hide Comments
Warriors are intent on keeping a mind like Jerry West around

LaVar has always been proud of his son, which Magic says isn't a problem as long as it doesn't...

Curry was cookin' on the pan and stole the show when she took over the mic
Shaq says LeBron isn't comparable to any one legend, rather a mixture of several greats

Kevin Love says the Cavaliers are on the same level as the Warriors: 'We match up well'

Former Lakers star is now an executive for Golden State