LeBron James scores 49, leads Heat to 3-1 series lead
"Indefatigable" was how Heat head coach described James. Any superlative would do.
• 3 min read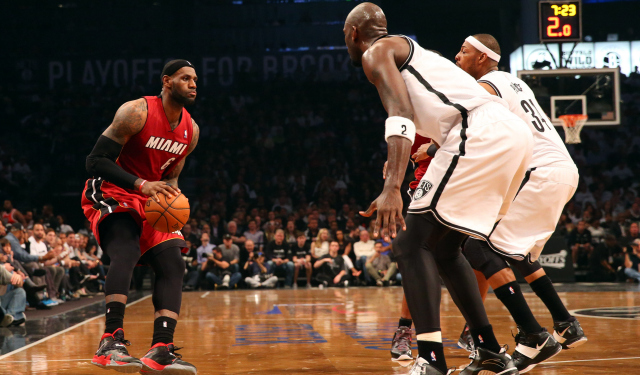 More postseason coverage: Playoff schedule, results | Latest news, notes
LeBron James willed his team to a victory on Monday. He scored 49 magnificent points in Game 4, just short of half of his team's total. The Brooklyn Nets played well enough to win, but the Miami Heat employ James, so the Heat did, 102-96.
It sounds ridiculously reductive, but sometimes it's simple. Miami now holds a 3-1 lead, and it must feel insurmountable, even for those Nets veterans who have seen and done almost everything.
The dominance started straight away, with James scoring 12 first-quarter points — mostly easy looks on the inside — with much of the basketball world distracted by Donald Sterling's insane interview on CNN. While some fans scoured the internet for the latest from the burdensome, banished owner, James provided a performance as transcendent there has been in the playoffs. Sterling was the sideshow; James was the show.
Regardless of what Brooklyn threw at him, he had an answer. James scored from all areas of the floor, in half-court and in transition. He compiled 40 by the start of the fourth quarter, and his final total tied a career playoff high.
James makes greatness routine, and he has been brilliant throughout Miami's eight-game, one-loss playoff run. This was the first time this spring that he truly went off, though, and it came at just the right time -- his teammates needed the help. Dwyane Wade managed 15 points, Chris Bosh had 12 and none of the Heat's role players had anything close to a big night. James scored 22 points in the paint, made 14 of his 19 free-throw attempts and shot 16-for-24 from the field. He kept attacking when he was saddled with fouls, and he refused to stop trusting his teammates when they were missing. 
"He was simply indefatigable — is that how you say it? — in just the entire game," Heat head coach Erik Spoelstra said postgame. "On both ends of the court. Having to manage foul trouble and make plays on both ends. But he did it, his aggressiveness, within the context of what we do."
Late in the game, Bosh had missed a three-pointer on two consecutive possessions. James, obviously, had everything rolling. Still, with the game tied and about a minute remaining, the superstar didn't hesitate to make the right play the next time down. James drew defenders and kicked the ball out. Mario Chalmers swiftly directed the ball to Bosh in the corner. The big man hit a three, and Miami would not relinquish the resulting lead.
"He was reading the game," Spoelstra said. "The biggest play of the game, after scoring that many points, was getting off the ball. And it's a play that he had been criticized many times in our three years for making, that type of play that led to a hockey assist to CB. He was fantastic tonight. It wasn't anything we talked about. He just has a way of sensing what we need."
James started Game 3 similarly, shooting 6 for 7 in the opening frame for 16 of Miami's 30 first-quarter points. He made only two field goals the rest of the way, though, and Brooklyn's ball movement and three-point shooting was enough to take the Heat down. Miami needed more, and this time James provided it. 
The Nets front office paid $190 million the chance to play for a championship, and their players wanted to face the Heat. There were many moments on Monday when it looked like they'd get their chance in a best-of-3. Instead, the Heat look poised to return to the conference finals, where they've been every year since James' arrival. The best player on the planet did what he was supposed to.
Show Comments
Hide Comments
Kerr has been sidelined for most of the NBA playoffs but is actively involved behind the s...

Two years ago, at least one scout would've taken him over Karl-Anthony Towns

The sign, however, says Jordan never flopped -- which is incorrect, as the film shows
Curry's turnover was a key moment in the Warriors' Game 7 loss last season

Curry is having an impressive postseason campaign, averaging 28.6 points per game

They have consistently posed problems for the Golden Boy, but can they keep it up?