LeBron plans to play more in the post, so we should all head to the bunker
LeBron James is determined to play more in the low post going forward.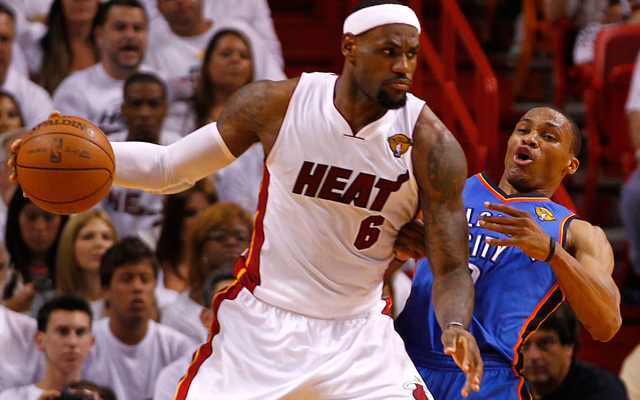 James says he'll be bowling over more opponents in the post next season.
(Getty Images)
LeBron James finally took the step in his game that so many had called for for so long. He entered the post. He drifted away from it late in the season, but in the playoffs, it returned with a vengeance, and absolutely punished teams with it, shooting 47 percent in the playoffs from post situations, according to scouting service Synergy Sports, and also passed well out of it, opening up the perimeter shots that buried the Celtics and Thunder. 
So what does James think about his post play, and does he plan on sticking with it?
You took fewer three-pointers this season.

LJ: I just changed my approach. I decided to stay away from the three-point line and going to the post. Make it a little bit easier for myself and for my teammates. I got more and more comfortable going down there and it was a success.

How do you think your game is going to evolve in upcoming seasons? Are you going to become more of a post player?

LJ: I can see that happening. I feel very comfortable down there, more comfortable than I've ever felt in my career. So I would see myself down there a lot more, and work my game from there.
via HoopsHype - LeBron James: "I don't care if I'm more liked by people".
Yikes. 
James showed why he's the best player in the world throughout the playoffs, but adding that post game dramatically alter what the defense can do. James' talent at distribution is what makes him really deadly there. James improved throughout the season at recognizing when the help was coming and flipping the pass to the perimeter for the open three. That forces the defense into an impossible position. As dangerous as James is at driving on the perimeter, when he's using his footwork and body control in the paint, it causes absolute mayhem. Even when he misses, he's so much stronger and more athletic, his second-chance opportunities kill teams.
If James really does commit to this, and if no one finds an adequate scheme to counter him outside of "put your best post defender on him and hope he doesn't get murdered face-up from space," things are only going to get worse for the rest of the league in guarding him.
Maybe that's the scariest part about this. LeBron James could and probably will actually get better. 
(HT: SLAMOnline)
Show Comments
Hide Comments
Thunder fans used the term 'cupcake' in reference to Durant after he left OKC in free agen...

There appeared to be some wishful thinking on the part of Charlotte general manager Rich C...

Thompson is one of the best shooters in the league, but it appears dunking isn't his speci...
Cuban was willing to part ways with employees who leaked ahead of the official announcemen...

Draymond wasn't mad about the move, though. He was mad about the way he heard about it

All-Star forward was sent from the Bulls to the Timberwolves on draft night