LeBron says Durant will feel title pressure 'when I retire'
LeBron James says that Kevin Durant will begin to see some of the pressure he's felt once he finally retires.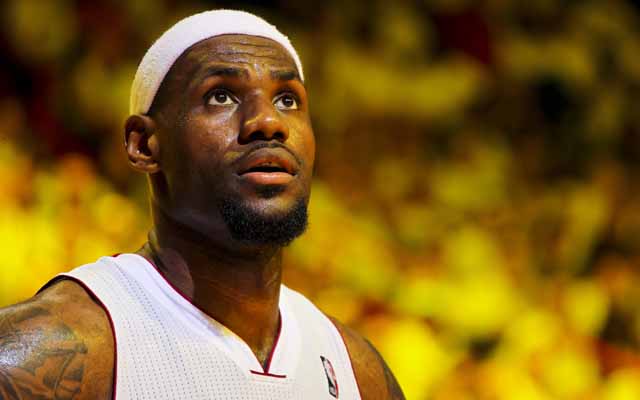 LeBron James has had a lot to say lately. Starting with his Mount Rushmore comments to now saying that Kevin Durant won't experience the same kind of pressure and scrutiny as him until he decides to retire. 
When does he think the pressure will truly shift to Durant to take the Larry O'Brien trophy?

"When I retire," James replied. "When I retire. They're still talking about, am I going to win a third? You know…"
It's not completely outlandish, because as we all know, the media goes where LeBron goes. There's as much talk about where his place will be in the history of the league as there is about what's happening currently within this season. Because of LeBron's career, and the spotlight that's always been on him, there probably isn't a player who's experienced more scrutiny and pressure the past decade as him. 
But let's not overlook this: LeBron sure does think he's the center of the basketball universe. I don't know if it's the real threat that Kevin Durant has presented recently that has kind of gotten to LeBron or what, but to suggest that Durant won't experience the pressure to win a championship until LeBron retires is just incredibly arrogant. 
It doesn't seem all that coincidental that LeBron has piped up and shown off more in the recent weeks, with the dunk exhibition at practice, the Rushmore comments, the stuff talking about feeling healthy and now this. Either LeBron is concerned about the focus of the league shifting away from him and wants to regain the attention of the world, or all this talk could be an effort to install a bit of pressure on himself and his team and kick them into gear after kind of coasting for a lot of the season. 
Show Comments
Hide Comments
All-Star guard flew to Washington after Game 6 vs. Bulls to attend his sister's funeral Sa...

The final Game 7 of the first round will tip off at 3:30 p.m. ET

Game 1 of the second-round series between the Celtics and Wizards tips off at 1 p.m. ET on...
The two best point guards in the East go at it in a series sure to be filled with drama.

Breaking down key matchups as the second season reaches the conference semifinal series

The second round of the 2017 NBA Playoffs tips off Sunday at 1 p.m. ET, with Game 1 of Cel...