LeBron the most searched player, Heat the top trending team
The Heat were the top trending NBA team on Google this year, and no player was searched more than LeBron James.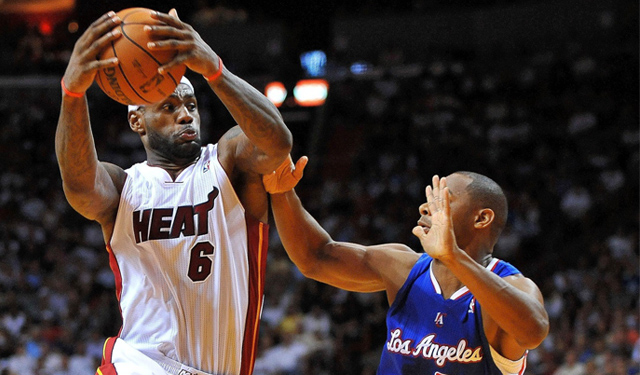 Champions of the NBA, and champions of Google. 
Google has released its search and trend data from 2013, and the Heat finished atop the list. They were the top trending NBA team of 2013, while LeBron James was the most searched player. 
In something of a surprise though, the New Orleans Pelicans finished second in trending teams, with the Golden State Warriors third. My guess with the Pelicans is that with their name change, there was a lot of searchin' going on.
No surprise about the Heat, though. A second straight championship and a team that features the best player in the world? I just Googled LeBron right now and I don't even know why. A reflex at this point.
Here's the top 10 trending teams:
1. Miami Heat
2. New Orleans Pelicans  
3. Golden State Warriors
4. San Antonio Spurs
5. Houston Rockets
6. Sacramento Kings
7. Indiana Pacers
8. Memphis Grizzlies
9. Detroit Pistons
10. Milwaukee Bucks
Notably absent from that list: The New York Knicks , the Los Angeles Lakers , the Los Angeles Clippers , the Oklahoma City Thunder , the Boston Celtics , the Chicago Bulls and the Brooklyn Nets . Weird.
Top 10 searched players:
1. LeBron James
2. Jeremy Lin
3. Michael Jordan
4. Kobe Bryant
5. Dwight Howard
6. Derrick Rose
7. Kevin Durant
8. Blake Griffin
9. Ray Allen
10. Steve Nash
Show Comments
Hide Comments
The Spurs will need a point guard since they'll be without Tony Parker for a good part of the...

There seems to be a lot of interest in the forward out of Kansas

The Knicks owner won't be around for what might be a dramatic night for New York
Embiid is ready to thrust Porzingis into The Process.

Everything you need to know to be the most informed fan at your draft party

The previously projected salary cap was around $102 million