LeBron was not happy with the Cowboys passing on Johnny Manziel
Miami Heat star wishes his favorite football team had drafted Johnny Football.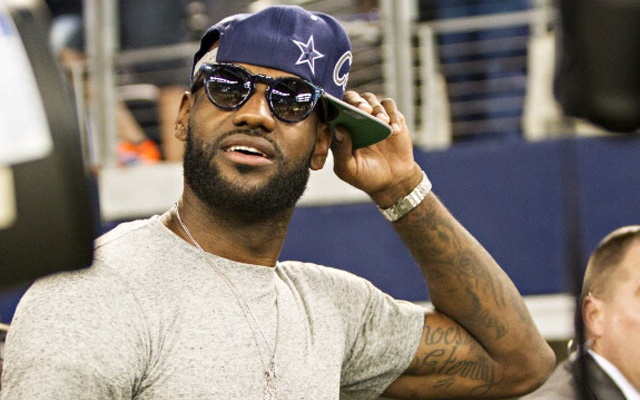 LeBron James is a noted Cowboys fan. He grew up in the Cowboys' heyday when they were winning titles in the mid-90's and not, you know, constantly failing to win playoff games. James had wanted the Cowboys to draft Johnny Manziel with their first-round pick. James was in the training room before the Heat's Game 2 vs. Brooklyn when Dallas elected to pass on drafting Johnny Manziel and ... well, he wasn't a fan of that decision. 
Cowboys fan LeBron James on Johnny Manziel: "I was watching in the back and hoping they took him, but..."

— Rachel Nichols (@Rachel__Nichols) May 9, 2014
Shane Battier was with LeBron in the training room last night when the Cowboys passed on Johnny Manziel. Battier: "Oh, it was ugly."

— Tom Haberstroh (@tomhaberstroh) May 9, 2014
Manziel was eventually drafted 22nd by the Cleveland Browns, which has to make you feel good about the chances of his success, given their long track record of developing quarterbacks and winning football games. 
The Cowboys, meanwhile, will head forward with Tony Romo, who has been signed to an extension. 
In unrelated news, Romo attended Game 4 of the Mavericks-Spurs series. The Mavericks surrendered a fourth-quarter lead after cameras showed him, and the Spurs went on to win the series in seven.
Show Comments
Hide Comments
Wall finished with 20 points and 14 assists in win over the Hawks

Durant and the Warriors swept the Trail Blazers in their first-round series

Atlanta is facing elimination, but there's a big adjustment it can make
This was a horrible play by the Bulls' guard.

The UCLA product and southern California native has previously indicated his desire to play...

Wall threw down a similarly impressive dunk earlier in the series