Lessons learned and gifts harnessed, LeBron James goes home
If his departure from Cleveland was a clumsy, mismanaged debacle, LeBron James' return was a tour de force. Four years later, the Cavs are getting a much different and better version of the King.
More on LeBron's return: James chooses Cleveland | Doyel: Welcome back to Ohio
If his departure from Cleveland was a clumsy, mismanaged debacle, LeBron James' return was a tour de force.
He announced the news in an eloquent, thoughtful, mature essay on SI.com, and there was no arguing with it.
Not this time.
LeBron James is going home, but not the same LeBron James who left. He's a champion now, a mature, self-aware superstar with perspective and sensibilities he lacked when he left four years ago.
In 2010, if 25-year-old LeBron could've asked 29-year-old LeBron how to handle his Decision, it would've looked and sounded like this. But that is not how life works -- how sports work -- when you are at the height of your powers, among the most famous, most interesting and most scrutinized athletes in the world, yet have a lot to learn.
You don't get to consult with future you. You have to become that person first.
Twenty-five-year-old LeBron never could've spoken these words, as 29-year-old LeBron did to Sports Illustrated's Lee Jenkins:
"The letter from Dan Gilbert, the booing of the Cleveland fans, the jerseys being burned -- seeing all that was hard for them. My emotions were more mixed. It was easy to say, 'OK, I don't want to deal with these people ever again.' But then you think about the other side. What if I were a kid who looked up to an athlete, and that athlete made me want to do better in my own life, and then he left? How would I react? I've met with Dan, face-to-face, man-to-man. We've talked it out. Everybody makes mistakes. I've made mistakes as well. Who am I to hold a grudge?"
Those words couldn't have been possible without James leaving home and going through the experiences that shaped him these past four years. He became a winner and competitor of the highest order, with four straight trips to the NBA Finals. He became a champion -- twice. He experienced defeat, ridicule, and the responsibilities of leading All-Star teammates -- Hall of Fame teammates -- which is a different challenge than leading kids and role players.
Most of all, he learned to harness his immense talents and his place atop the basketball pecking order -- on the floor, and in the public eye. Basically, he learned how to be LeBron James.
"My patience will get tested," James said. "I know that. I'm going into a situation with a young team and a new coach. I will be the old head. But I get a thrill out of bringing a group together and helping them reach a place they didn't know they could go. I see myself as a mentor now and I'm excited to lead some of these talented young guys."
It should be noted, too, that those talented young guys -- Kyrie Irving, Tristan Thompson and Dion Waiters were the ones he chose to mention in his essay -- wouldn't be in Cleveland if James hadn't left. The Cavs, their owner, Dan Gilbert, and everyone from the people answering phones in the ticket office to those hanging the nets and laying down the wood floor, needed this pause in James' story, too.
James said he spoke face-to-face with Gilbert before he made his decision, and they "talked it out." In the end, this wasn't about Gilbert's vengeful letter or James' ego. It was about the aspect of him that pundits and fans, clock-punchers and millionaires, foolishly try to define and establish for him: his legacy.
That is his alone to establish. The consequences of his decisions -- all of them -- are his alone to bear. His essay exuded that confidence and awareness, which he had to leave home to find.
"I feel my calling here goes above basketball," James said. "I have a responsibility to lead, in more ways than one, and I take that very seriously. My presence can make a difference in Miami, but I think it can mean more where I'm from. I want kids in Northeast Ohio, like the hundreds of Akron third-graders I sponsor through my foundation, to realize that there's no better place to grow up. Maybe some of them will come home after college and start a family or open a business. That would make me smile. Our community, which has struggled so much, needs all the talent it can get."
It regained the biggest talent of all on Friday, imperfections and all. Just don't make the mistake of thinking that Cleveland got the same LeBron James who left. 
They got a much different one. A much better one.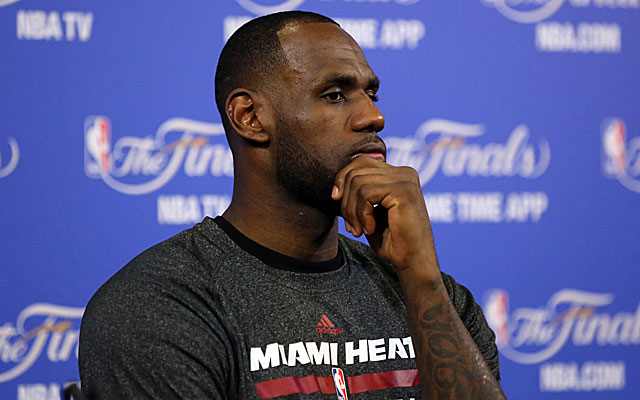 Show Comments
Hide Comments
Series prices show Dubs light years ahead

Green responded that he's 'the modern day Draymond Green'

Our experts predict whether the Jazz can compete with Golden State, along with the rest of...
Breaking down key matchups as the second season reaches the conference semifinal series

Pierce's 19-season run in the NBA ended Sunday as the Clippers bowed out of the playoffs

Utah overcame its relative lack of experience with a balanced, deep and versatile roster