Looking ahead: Spurs and Heat meet in NBA Finals once again
With the Spurs clinching the Western Conference championship, we look ahead to their NBA Finals matchup against the Miami Heat.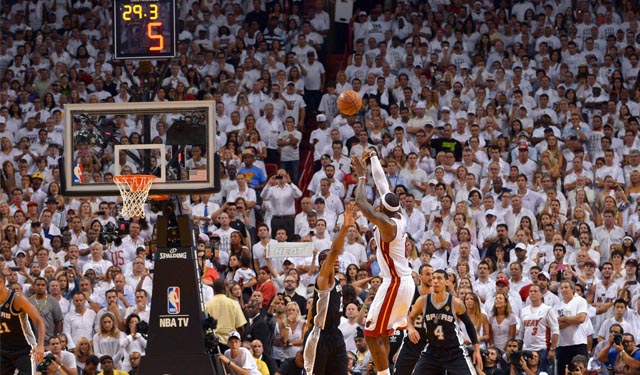 More postseason coverage: Playoff schedule, results | Latest news, notes
With the San Antonio Spurs winning the Western Conference Finals in six games a day after the Miami Heat wrapped up the East in six, we're about to get a rematch of one of the greatest NBA Finals we've ever seen just one year after it happened. The Spurs are making back-to-back NBA Finals appearances for the first time in franchise history, and the Heat are looking to complete a three-peat for the first time since the 2000-02 Lakers.
What do we have in store for this 2013 Finals sequel? Let's take a quick look ahead to what the series will look like:
Schedule:
Game 1: Thursday, June 5 at 9 p.m. ET, ABC
Game 2: Sunday, June 8 at 8 p.m. ET ABC
Game 3: Tuesday, June 10 at 9 p.m. ET ABC
Game 4: Thursday, June 12 at 9 p.m. ET ABC
Game 5: Sunday, June 15 at 8 p.m. ET ABC (if necessary)
Game 6: Tuesday, June 17 at 9 p.m. ET ABC (if necessary)
Game 7: Friday, June 20 at 9 p.m. ET ABC (if necessary)
Season series: The Heat and Spurs split the season series 1-1. The Heat blew out the Spurs on Jan. 26 in a game they ended up winning 113-102. They led by as many as 29 before the Spurs made a late charge in garbage time to make the score appear closer. Dwyane Wade had missed the previous four games, but came off the bench in his return. He had eight points and dished out five assists in this game. Chris Bosh was the leading scorer with 24 points as the Heat did a better job of sharing the ball, making shots, hitting 3s and knocking down free throws than the Spurs did.
The Spurs won the second game of the season in convincing fashion. They blitzed the Heat with 37 points in the first quarter and built the lead up to as big as 24 points. It was one of the more beautiful displays of team basketball we've seen this season with the Spurs assisting on 30 of 40 made baskets and no player having more than five assists. Tim Duncan led the way with 23 points and 11 rebounds, and Boris Diaw was a match-up nightmare scoring 16 points, grabbing eight rebounds and passing out five assists. The Spurs slammed the door in the fourth by giving up just 13 points in a period that didn't contain much garbage time.
Key matchup: Much like we saw with the small forward match-up in the Western Conference Finals, Kawhi Leonard trying to stifle another top player in this league in LeBron James could dictate how the series goes. The Spurs will find a way to throw a lot of different looks at James and make him uncomfortable. If they can get him to second guess the coverage being thrown his way and hesitate, we could see the Heat unable to grind out possessions like we saw against the Pacers. But Leonard is expected to be the primary defender on James and he'll be asked to keep the four-time MVP from leading the Heat to a third straight title.
Leonard did a solid job on LeBron in the NBA Finals in 2013, but Diaw made him his most uncomfortable in key stretches. However the Spurs decide to take away what they can from James and possibly make Wade or Bosh beat them will be an interesting game plan for this series. Leonard just finished a great job of not letting Durant put his stamp on the conference finals. Can he do that in a series against the best player in the world now?
Big number: 56.2. It's hard to extrapolate much out of a two-game series against teams from separate conferences, especially when it's two teams who know exactly how to manage the pace of the regular season to prepare for a deep playoff run. But the Heat have needed some help in getting consistent performances out of their role players during the season and the playoffs. The three biggest role players for them in this series will probably be Ray Allen, Chris Andersen and Mario Chalmers. In the two regular-season games against San Antonio, they combined to shoot 56.2 percent from the field with all three players making at least half their shots. 
It's not a huge sample size (only 32 attempts), but the Heat need these guys to have big moments in the NBA Finals. We've seen the damage Allen can do, especially against this Spurs team. We've seen Chalmers hit big shots in big games, although Norris Cole has been a much bigger presence on the court than their starting point guard. And Chris Andersen will be instrumental in how they handle Duncan and Tiago Splitter in the Finals. If they can contribute on offense consistently, the Heat will be in great position.
What's the narrative? How much of last year's Finals will carry over into this year? The Spurs were 28 seconds away from clinching their fifth title and being undefeated in the NBA Finals in the Popovich-Duncan era. Instead, some unlucky bounces and a big Ray Allen 3-pointer left them wondering what just happened before they dropped Game 6 and later Game 7. Does any of this matter one year later?
The Spurs have come out more focused than you can possibly imagine a team would be after having such a heartbreaking collapse. The Heat don't have to deal with sideshow antics in this series like they did against the Pacers, but they do have to deal with a team that is as stable and capable of supreme execution as any they've ever faced. Duncan is determined to go out on top and has geared his entire season toward being at his possible peak heading into the Finals. LeBron, Wade and Bosh are looking to join the all-time greats with a three-peat. 
Something has to give.
Show Comments
Hide Comments
Club reportedly wants to keep stars, but doing so promises more of confusion and falling s...

Warriors star talks to CBS Sports about how he gets his mind right

Vince Carter, Norman Powell and Nene have also shined on the big stage
A fantastic series will pit two of the best players in the league against one another, aga...

What does this mean for the future of Paul George?

Father's dream of his own billion-dollar brand prevents his son from landing a deal with the...