Luol Deng mocks offer, is open to the idea of rejoining the Bulls
The Cleveland Cavaliers acquired Luol Deng from the Chicago Bulls in a recent trade. With Deng hitting free agency this summer, he's not opposed to rejoining his old team.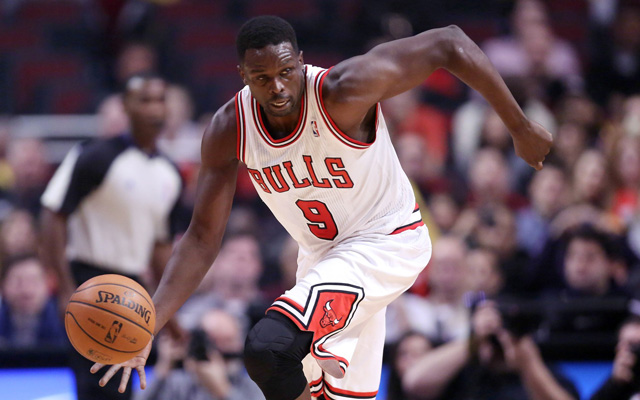 After reportedly turning down a three-year, $30 million extension from the Chicago Bulls, Luol Deng was traded to the Cleveland Cavaliers in exchange for Andrew Bynum and three draft picks. Deng will hit free agency this summer as an unrestricted free agent and will undoubtedly have plenty of offers to sift through as he makes his decision. 
When asked by reporters if he'd consider signing with the Bulls this summer should they reach out to him with a contract offer, Deng initially mocked the reported extension offer the team made. Shortly after the joke about the extension, Deng told reporters that taking the Bulls out of the equation would be stupid. From the Chicago Sun-Times: 
Meeting with the media for yet another chat about facing his former Bulls teammates Wednesday, Deng was asked about his pending free agency and the likelihood he could return to the Bulls despite their trading him to the Cleveland Cavaliers earlier this month.

''I don't know,'' Deng said sarcastically. ''Maybe they'll offer me three years, $30 million. That might be an option to take.''

That was the offer Deng walked away from several days before the Bulls made the decision to trade him.

Deng eventually answered without the sarcasm.

''I can't say,'' he said. ''There's no bad blood or anything. For me to sit here and say I'm taking Chicago out of the equation, that's stupid. I was there for 10 years.''
It's good that Deng clarified there isn't any bad blood between him and the Bulls, but it's a little odd he mentioned the reported numbers for the offer he allegedly turned. Either he was mocking the reports of this contract showdown that eventually resulted in the trade or he's mocking an actual offer the Bulls made to him as if he was sort of offended. Regardless, it's good to know he isn't opposed to the idea of joining up with his old friends.
Deng is averaging 17.6 points and 3.9 rebounds since joining the Cavaliers. The team is 3-4 with Deng in the lineup and lost at home to the Bulls Wednesday night. Deng was 2-of-11 from the field for 11 points against his old team.
Rose reportedly agreed to a one-year deal with the Cavs

Fredette starred for the Shanghai Sharks last season

The free-agent point guard spent last season with the New York Knicks
Stevens was trying to take Hayward and his wife to their hotel

Darius Miller got a whole lot of hype from a case of mistaken identity

Richard Jefferson understands why Kyrie Irving would request a trade