Magic are 'trying to gather as much data as possible' on Embiid
The Orlando Magic want to know the severity of the Kansas center's injury. Will they get the information from his agent?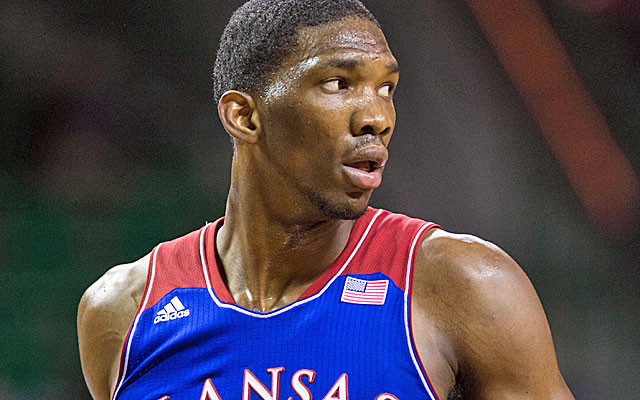 More Draft: Mock drafts | Draft news
The Magic are trying to obtain information on Kansas center Joel Embiid in light of his surgery to repair a stress fracture in his foot. Word is beginning to leak that the top three teams, the Cavaliers, Bucks, and Sixers, may pass on Embiid due to the injury. The Magic have the No. 4 pick. 
As they prepare for the 2014 NBA Draft next week, the Orlando Magic are attempting to obtain as much data as possible about Joel Embiid's right foot injury so they can make an informed decision if Embiid is available when the team picks fourth overall.

The Magic currently don't know any specifics about Embiid's injury other than what already has been reported through the news media: that Embiid suffered a stress fracture to the foot's navicular bone and was scheduled to undergo surgery today.

"We're going to try to gather as much information as we can, and we're going to continue to do so right up until the draft," Magic general manager Rob Hennigan told the Orlando Sentinel when asked about Embiid. "We have some information now, and we're always looking to acquire more information that can help us make a decision."

Embiid's agent, Arn Tellem, will decide which teams will receive detailed information about Embiid's injury and subsequent surgery.

In that sense, Tellem is expected to exert significant influence on where Embiid lands in the draft.

Hennigan would not say whether the Magic would consider drafting Embiid fourth overall if the team doesn't receive detailed information on the injury.

But it seems highly unlikely that Orlando would draft a player — even a player as talented and as highly regarded as Embiid — without knowing the full details about the player's health.
via Joel Embiid's injury impacts the Orlando Magic - Orlando Sentinel.
So that last element is significant. Embiid's agent, Arn Tellem, is reportedly trying to steer him away from teams that aren't the No.1 Cavaliers, the Lakers, or Celtics. If he simply doesn't provide the Magic or Jazz with the necessary information on him, he could slip to six, and then be in line for either of those teams. 
Without knowing the full details of the injury, you just can't feel good about taking Embiid. There's too much at risk. But the Magic will try. 
It appears Wall will be staying in Washington for a long time

Apparently James wasn't aware that Kyrie was considering a change of scenery

The Knicks reportedly have interest in the Cavs star, but do not want to give up their uni...
The Knicks, Spurs, Timberwolves and Heat are reportedly his preferred teams

Altman has been serving as the Cavs' assistant general manager under David Griffin

It was a calm Friday in the NBA world ... and then it wasn't