Magic Johnson in 'mourning' over losing Phil Jackson as Lakers coach
Magic Johnson says he's mourning the decision to not hire Phil Jackson.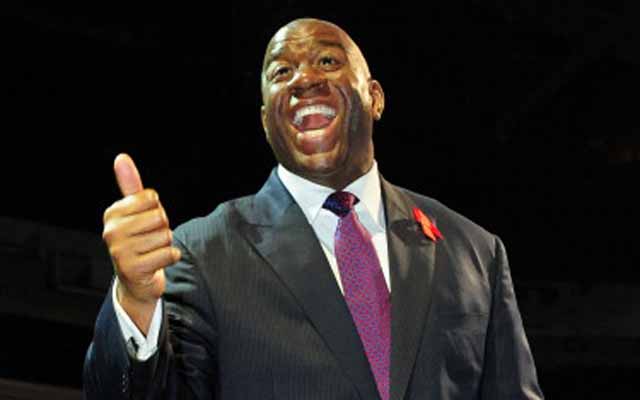 Who's got one thumb and threw Mike D'Antoni under the bus?

(Getty Images)
When I wrote that Mike D'Antoni was entering a "nest of vipers" with the Lakers, I wasn't expecting for the snakes to be coiled around the feet of the greatest player in franchise history.
Magic Johnson had openly campaigned for the return of Phil Jackson over the weekend. And now that the Lakers have chosen to go with D'Antoni, Johnson is not quite done lamenting the decision. Publicly.
The reason I haven't tweeted in 2 days is because I've been mourning Phil Jackson not being hired as the Lakers head coach.

— Earvin Magic Johnson (@MagicJohnson) November 14, 2012

Johnson has openly discussed the coaching staff of the Lakers before, talking about how Mike Brown would be fired last year if they had lost a crucial game, and yet he was not. Johnson in the past not only had an ownership stake of the team (which he sold) but worked for years in an official capacity with the team.
Over the weekend, Johnson clarified he has no official capacity, and hasn't spoken with old friend Jerry Buss in months. He did openly desire Jackson or Brian Shaw, and told USA Today why he thought Jackson was the choice (and why he thought it would happen -- whoops): 
Q: You've made it pretty clear who you want to coach this team, Magic, but break it down for me. Why do you feel like Phil is the only choice?

A: When you get Dwight Howard and you get a Steve Nash, and you bring them to the Lakers, Phil would be a perfect coach of this team because of his recent success with Shaq (O'Neal), his recent success with (former Lakers center Andrew) Bynum and (Lakers forward Pau) Gasol. So he knows how to utilize both big men, put them in a position that they can be successful and that the team can be successful as well. So he already has this incredible history with Kobe, winning five championships with him. He would definitely, I think, from Day One, be able to take over this team. He'll have the respect of the guys, because he's won championships. He would have a knowledge of them, they would have a knowledge of him, they know how to run the triangle. The only two people who have to catch up are (Steve) Nash and Howard. With Dwight, that'd be easy, and I think that'd be easy for Steve Nash as well. If the Lakers want to win now, he's the perfect coach.

Q: It certainly seems like the deal (with Jackson) is going to get done, but are you pretty confident he'll be the guy soon?

A: I feel it's going to get done. They have some things,of course, to work out. I know that Phil wants to bring his staff in, which is good, because - again - most guys like (former Lakers assistants) Kurt Rambis and (Jim) Cleamons, they know the guys. Kurt has worked with Kobe almost since he came into the league. He knows him, they respect Kurt, Kurt respects them,and Kurt knows how to get the most out of these guys. He did a wonderful job with Bynum and the rest of the guys. They love Kurt, because he's won championships. Cleamons, same thing. Of course he wants his guys, and that's good because that's what makes Phil comfortable coaching, so I think they'll get it done.
via Magic Johnson excited Phil Jackson could return.
Johnson also said Jackson was the choice because he's "about winning championships" and so are the Lakers.
This, of course, is nonsense.
Other teams don't hire what end up to be championship coaches because they're "about winning championships." When Jerry Krause hired Jackson, he was a CBA coach. Did he "know" he was "about winning championships?" Absolutely not. Same with San Antonio and Gregg Popovich, same with the Miami Heat and Erik Spoelstra, same with the Dallas Mavericks and Rick Carlisle. If the only people who could win a title are the coaches who have won one, none of those guys would have rings. Chicken and the egg, there, Magic. 
Johnson loves the Lakers. Loves LA. But there are times when some people, especially players, can't see the forest for the trees.
Makes you wonder about Jerry Krause just a little bit.
Meanwhile, while D'Antoni gets set to be introduced and take over the team next week, he's got to deal with a franchise legend openly questioning the decision. Tread carefully, Pringles. 
Even Floyd Mayweather weighs in on the war of words between the two stars

The three-team deal would have also shipped Kevin Love to Denver

Ball wasn't happy about a foul call, swore at a referee and took his team off the floor
Jared Sullinger wants back in the NBA; he knows his weight will play an important part

Cleveland is one of Rose's biggest suitors, and the Irving situation could lead to an even...

Five years later and Celtics fans continue to throw shade -- Allen later deleted the comme...