Magic plan to use Victor Oladipo as a combo guard
Orlando GM says the team wants to use No. 2 overall pick as a ball-handler in the offense.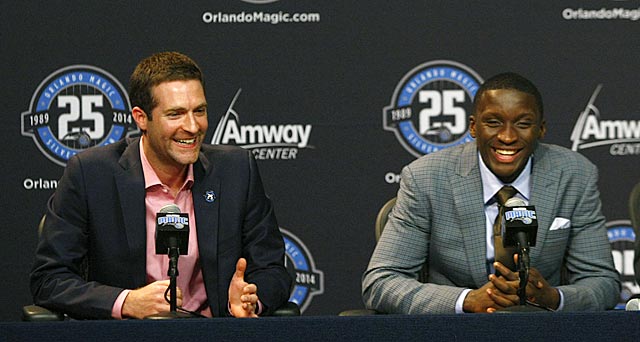 The Magic had talked about playing No. 2 overall pick Victor Oladipo at point guard early in the summer.  At an event for season ticket holders, Magic GM Rob Hennigan said this week that the Magic plan to use Oladipo at both guard spots. 
Magic GM Rob Hennigan: "We are going to play @VicOladipo at both guard spots ... we see that as the future of the league."

— Orlando Magic (@Orlando_Magic) September 12, 2013
Orlando has needs at both positions and can use a combo guard. The question for many is whether Oladipo has the ball skills to thrive in that kind of role. As a "3's and D" kind of guy, he could be spectacular, but those players are rarely made into stars. The team needs a young ballhandler to manage the offense (and allow them to trade Jameer Nelson). But is Oladipo a good fit for that? 
Sometimes a college player's skill profile doesn't reveal what he's good at in the pros. The Magic obviously see something in his workouts to suggest he can act as primary ball-handler and score off the dribble. That's going to be a big question mark for them this season. If it works, they'll be further ahead in their rebuilding process than they'd planned. If it doesn't, they're still going to need to target a point guard in free agency or the draft next year. 
Show Comments
Hide Comments
Westbrook notches the highest-scoring triple-double in NBA history, and rescues OKC in Orl...

The rapper and businessman had contracts with the Hornets and Raptors in the late 1990s

Cleveland's point guard is looking in the mirror
In 1990, the Rockets' Hall of Famer achieved the feat with points, rebounds, assists, and...

Also, the Spurs are still deadly, and the Cavs have some flaws to overcome

Golden State is reportedly hoping he'll come back for the final three games