Magic's Jameer Nelson seeing doctor for various injuries, may not play Tuesday
The Orlando Magic's Jameer Nelson is seeing a doctor Monday for injuries and may not play Tuesday.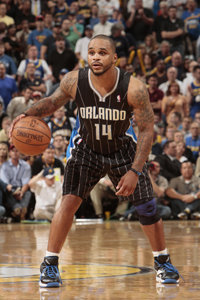 Jameer Nelson is seeing a doctor. (Getty Images)
The Magic's season has been off to a stellar start. Blow out the Nuggets at home, topple the Suns. It's began about as well as could be expected. After all the hard times, looks like it's all looking up for ... oh, damn it. 
The Orlando Sentinel reports that Jameer Nelson was headed to a doctor Monday, and there's a question mark as to his status for Tuesday's game in Chicago. 
Nelson has been a huge part of that early success for the Magic, playing aggressively and smartly while shooting exceptionally well. The Magic re-signed Nelson on a three-year deal even in the midst of the turmoil over the Dwight Howard trade and facing an uncertain future. 
Nelson's veteran leadership is something the Magic are trying to lean on in their inexplicable win-now attitude. Hopefully he's just a little banged up and will be fine. 
Show Comments
Hide Comments
Breaking down key matchups as the second season reaches the conference semifinal series

The second round of the 2017 NBA Playoffs tips off Sunday at 1 p.m. ET, with Game 1 of Cel...

The Spurs have homecourt advantage, and will host Game 1 Monday night at 9:30 p.m. ET
All-Star guard flew to Washington after Game 6 vs. Bulls to attend his sister's funeral Sa...

Some love for the Rockets over the Spurs, and at least one expert says the Cavs are going...

Ball is expected to be one of the top picks in the NBA Draft later this summer