Major free-agent moves on hold until Melo, Big Three decide
With Carmelo Anthony making the rounds and Miami's Big Three counting their money, the major free-agent moves are in a holding pattern until they decide.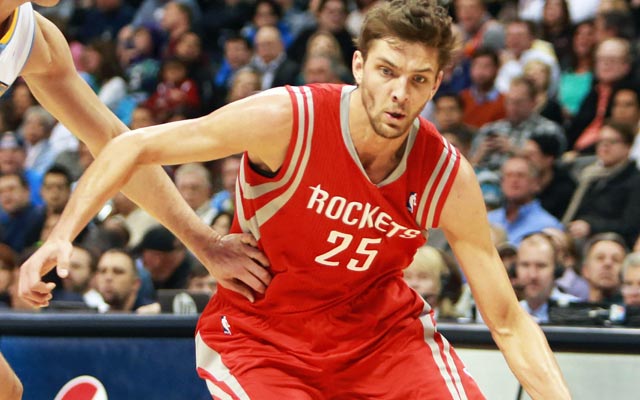 More free agency: Top 40 free agents | Top 20 PGs | Top 20 bigs | Latest news
Welcome to the free-agent holding pattern, 2014 version.
A year ago, all but the most mundane moves were delayed until Dwight Howard decided whether he was staying in Los Angeles or going to Houston, Dallas, Atlanta or Golden State. After a holiday weekend in Aspen, Colo., with his advisors, Howard chose the Rockets.
Then, finally, the free-agent floodgates opened.
Howard is now in recruiting mode instead of decision mode. He'll be part of a Rockets contingent that will meet with free agent Carmelo Anthony in Houston on Wednesday. After spending the day in Chicago, Melo-palooza will then roll on to Dallas and Los Angeles, where Anthony will be greeted by a high-level delegation including Jim Buss, Jeanie Buss (who skipped last summer's groveling session with Howard), Mitch Kupchak and presumably Kobe Bryant. The Lakers don't have a coach yet to present to Anthony, but hey, maybe that's part of the appeal. Sign here, and you get to pick the coach, too.
Jason Kidd is already taken, but Larry Drew is available.
Meanwhile, the recruitment of free agents such as Kyle Lowry, Chandler Parsons, Gordon Hayward, Luol Deng and Trevor Ariza has slowed to a standstill while Anthony enjoys his free-agent experience and the Miami Heat's Big Three decide what they're going to be doing and how they're going to be doing it. (Actually, while two-thirds of them, LeBron James and Chris Bosh, are away on vacation.)
The belief all along around the league has been that LeBron James, Dwyane Wade and Chris Bosh will be staying put; it's just a matter of math at this point. Some of the math that was revealed Tuesday, the first full day of the free-agent negotiating period, didn't add up. The idea was floated that Heat president Pat Riley was telling prospective free agents that he'd have $12 million to spend. Given that James is seeking a max deal starting at $22 million, and with about $7.6 million more on the books (Norris Cole, first-round pick Shabazz Napier and cap holds), that would mean that Bosh and Wade would be accounting for only $23 million between the two of them.
Eureka! The great capologist, Riley, had figured out a way to keep the band together and bring in a high-priced free agent to boot. So Bosh, for example, had opted out of a deal that would've paid him $20.6 million next season and $22.1 million the following season to sign a new contract starting at ... $11 million?
Well, the agent who represents Bosh and Wade, Henry Thomas, pumped the brakes. Thomas called those figures "BS" in text messages to various media inquisitors (yours truly included). One theory currently circulating -- a good one, if you ask me -- is that the numbers were floated by a representative of a free agent Riley is trying to land in order to leverage other teams that are formulating competing offers. 
Oh, this business.
Anyway, the point is, nothing much besides Marcin Gortat, Jodie Meeks, Shaun Livingston and Cartier Martin can get done until the situations with the Big Three and Melo are resolved.
James, in stark contrast to his 2010 free-agent fiasco, isn't even personally attending meetings with teams -- instead, dispatching his agent, Rich Paul, to hear any pitches. A fool's errand, they'll be.
The teams that are entertaining Anthony have other irons in the fire, such as Parsons, Ariza and Deng. Courting Parsons without a decision from Anthony -- or, potentially, from James and Bosh -- would clog up cap space during the three-day period when Houston would be able to match since he's a restricted free agent. 
For that reason, and others, the Bulls, Rockets, Mavs and Lakers desire a swift decision from Anthony so they can tend to other business and avoid losing out on free agents who might actually say yes.
It's like 2013 all over again, except Howard isn't luxuriating in Aspen while the world awaits his decision. Aspen is lovely this time of year, or so they say.
By the end of the holiday weekend, after Anthony meets with the incumbent Knicks and the Big Three finish divvying up all the money they just walked away from, certainty will abound and decisions will finally be made.
Just a few more days of BS.
Show Comments
Hide Comments
The two best point guards in the East go at it in a series sure to be filled with drama.

Breaking down key matchups as the second season reaches the conference semifinal series

The second round of the 2017 NBA Playoffs tips off Sunday at 1 p.m. ET, with Game 1 of Cel...
The Spurs have homecourt advantage, and will host Game 1 Monday night at 9:30 p.m. ET

All-Star guard flew to Washington after Game 6 vs. Bulls to attend his sister's funeral Sa...

Some love for the Rockets over the Spurs, and at least one expert says the Cavs are going...