Man gets arguably the worst Nate Robinson tattoo ever
This tattoo of the Chicago Bulls' Nate Robinson is gross.
Welcome to Monday's edition of "Horrible Fan Tattoos of NBA Players." Today's winner? Ivan Garcia, who tweeted this masterpiece of his favorite player (we assume; we hope; we pray), Nate Robinson: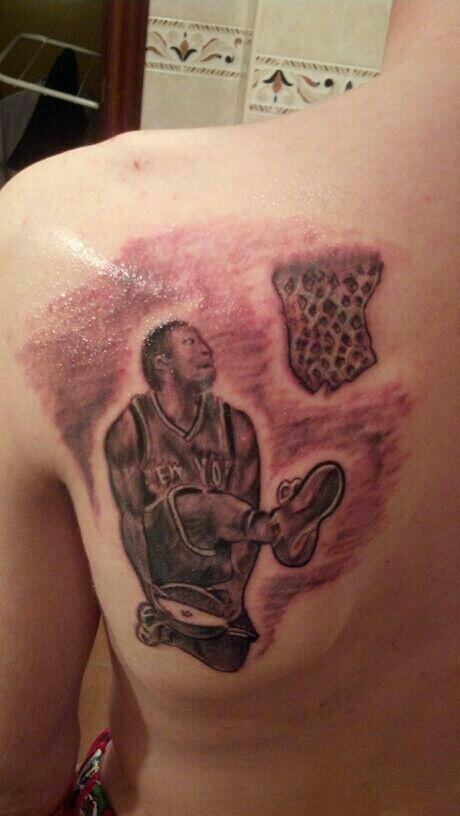 So apparently Nate Robinson is going to dunk what looks like a Nerf football on a sponge. In this way, the artist asks the audience an important question: "Aren't we all Nate Robinson, in a way?" Also, the fact that he chose Robinson in his Knicks days -- he currently plays for the Bulls -- only makes this more stunning. Of all the Knicks players, the dude chose NateRob.
To Ivan, we say: "Well done, your pride and love of the Knicks is a wonderful example of the passion sports can provide." 
To Ivan's friends, we ask: "How could you? Seriously, why did you drop the ball so badly on this one? When he said 'I'm going to the tattoo parlor to get a tattoo of Nate Robinson,' did not one of you suggest he rethink this strategy?" 
Show Comments
Hide Comments
Never go up against the G.O.A.T., kids.

Knicks star would not walk a thousand miles for you.

The problem is, all the reasons he lists are basketball reasons
Everything sounds good in the summer

The thing is, he's a good and relatively cheap player

What role will the youngster play in L.A.'s hopeful resurgence?