Man gets arguably the worst Nate Robinson tattoo ever
This tattoo of the Chicago Bulls' Nate Robinson is gross.
Welcome to Monday's edition of "Horrible Fan Tattoos of NBA Players." Today's winner? Ivan Garcia, who tweeted this masterpiece of his favorite player (we assume; we hope; we pray), Nate Robinson: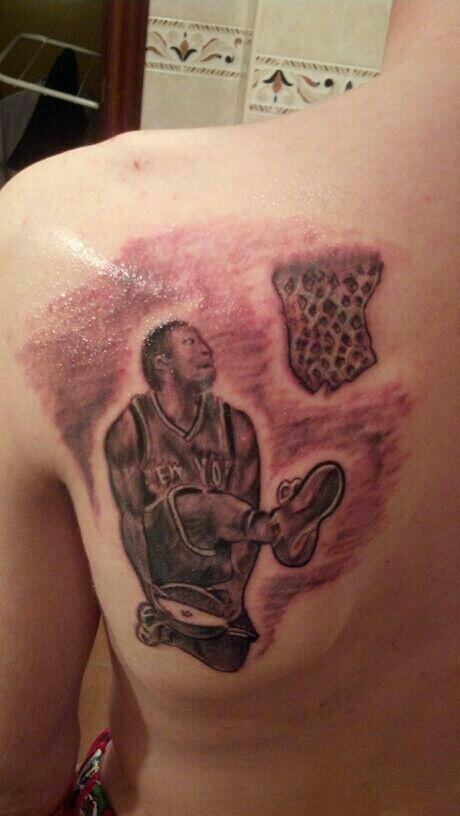 So apparently Nate Robinson is going to dunk what looks like a Nerf football on a sponge. In this way, the artist asks the audience an important question: "Aren't we all Nate Robinson, in a way?" Also, the fact that he chose Robinson in his Knicks days -- he currently plays for the Bulls -- only makes this more stunning. Of all the Knicks players, the dude chose NateRob.
To Ivan, we say: "Well done, your pride and love of the Knicks is a wonderful example of the passion sports can provide." 
To Ivan's friends, we ask: "How could you? Seriously, why did you drop the ball so badly on this one? When he said 'I'm going to the tattoo parlor to get a tattoo of Nate Robinson,' did not one of you suggest he rethink this strategy?" 
Show Comments
Hide Comments
The two best point guards in the East go at it in a series sure to be filled with drama.

Breaking down key matchups as the second season reaches the conference semifinal series

The second round of the 2017 NBA Playoffs tips off Sunday at 1 p.m. ET, with Game 1 of Cel...
The Spurs have homecourt advantage, and will host Game 1 Monday night at 9:30 p.m. ET

All-Star guard flew to Washington after Game 6 vs. Bulls to attend his sister's funeral Sa...

Some love for the Rockets over the Spurs, and at least one expert says the Cavs are going...